Hello everyone! Hope you've had a great start to December. My Monday was pretty good books-wise, I finished The Queen of Nothing (expect a review soon!), finished The Usborne Fairy Tale Treasury (mini-review below), and also hit up the library for a few great graphic novel finds!
Current Read: Red, White & Royal Blue
What happens when America's First Son falls in love with the Prince of Wales?
First Son Alex Claremont-Diaz is the American equivalent of a young royal. Handsome, charismatic, genius— pure millennial-marketing gold for the White House. There's only one problem: Alex's feud with the British Prince Henry. When the tabloids get ahold of a photo involving an Alex-Henry altercation, U.S./British relations soon sour.
Damage control: a truce between the two rivals. As their fake but photogenic friendship deepens, Alex tumbles into a clandestine affair with a surprisingly unstuffy Henry that could derail the campaign and upend two nations.
Can love save the world after all? 
Current thoughts (2/421): We're two pages in and dropping mentions of Marquises of Lafayette and Monroe Administrations and I deeply fear my spotty knowledge about US political history is going to affect how much I enjoy this. (I mostly remember the Civil Rights Movement, the Red Scare and the Korean War.) Google has revealed to me that said Marquis is the same Lafayette I remember from AS History – I foresee that Wikipedia and I shall be bosom friends whilst I read this novel!
Mini-review: The Usborne Fairy Tale Treasury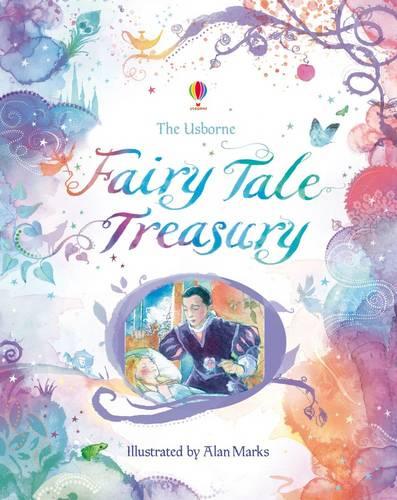 A lovely illustrated compilation of folk tales, some of which I'd not actually heard of before – it's always nice to discover something new! I didn't know of 'The Raven and the Ring', 'The Magician's Horse', 'The Bluebird' and 'Long, Broad and Sharpsight'. The illustrations themselves deserve a whole star – gorgeous watercolours that give the whole book a dreamy and whimsical feel. The writing is aimed towards children but I enjoyed it too!
Recent Posts:
TBR, Library Finds and Upcoming Reviews:
Skyward, Vol. 2: 'Here There Be Dragonflies' by Henderson and Garbett (read my review of Vol. 1 here)
The Graveyard Book, Vol. 2 by Gaiman and Craig Russell (read my review of Vol. 1 here)
The Wind in the Wall by Sally Gardner (illust. Rovina Cai)
Calamity Jack by Shannon and Dean Hale (illust. Nathan Hale)
Almost Midnight by Rainbow Rowell (illust. Simini Blocker)
And that's the plan for the next couple of weeks! Have a lovely week everyone ❤️