"I have peace here."
"Because it's so quiet?"
"No. Because I am exactly where I should be, doing exactly what I should be doing. That is peace."
Rating: ⭐️ ⭐️ ⭐️ ⭐️ (4/5)
What's This Book About?
Genre: Children's adventure/contemporary fiction (animals)
Synopsis: Pax and Peter have been inseparable ever since Peter rescued him as a kit. But one day the unthinkable happens: Peter's father enlists in the military, and makes Peter return the fox to the wild.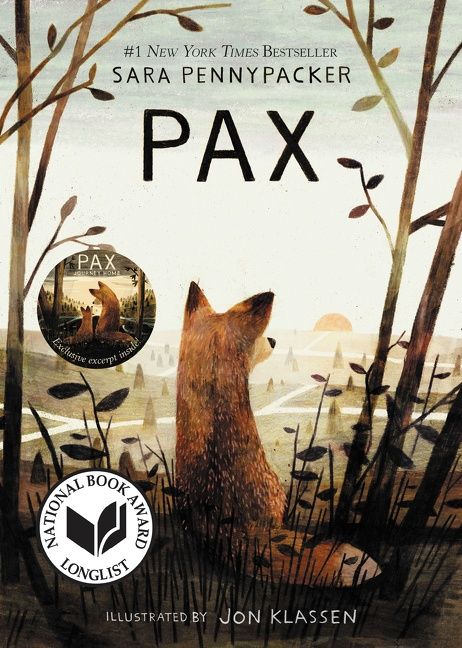 At his grandfather's house three hundred miles from home, Peter knows he isn't where he should be – with Pax. Spurred by love, loyalty and grief, Peter strikes out alone despite the encroaching war, yearning to reunite with his fox.
Meanwhile Pax, steadfastly waiting for his boy, embarks on adventures and discoveries of his own…
What I Thought:
'Pax' was a touching read, that was both heartwarming, heartbreaking and unexpectedly dark at times. It is both the story of a fox and his boy, as well as an insightful reflection on the way we live in, move through and interact with this world of ours – how everything is connected. Two but not two. Separate but inseparable.
It especially made me think about animals are affected by modern warfare, the senseless tragedy of collateral damage, and the true cost of war beyond mere monetary expenses.
[W]hat about the smaller losses? How many kids missed their older brothers or sisters for months at a time? How many friends had had to say good-bye? How many kids went hungry? How many had to move? How many pets had they had to leave behind to fend for themselves?
And why didn't anyone count those things? "People should tell the truth about what war costs," Vola had said. Weren't those things the costs of war, too?
I wouldn't say this book is totally anti-war, but it leans towards it – or at least stresses how governments need to properly and fairly inform and prepare their citizens of what is to come if a war breaks out. (As opposed to propaganda.)
There was also good mental health rep – both Pax and Peter struggle with anxiety, and Vola (a veteran) has post-traumatic stress disorder (PTSD).
People around me, they called it PTSD…from being in the war. And they were right that I was sick. But I knew it wasn't being in the war, exactly. It was that in the war, I had forgotten everything that was true about myself. Post-traumatic forgetting-who-you-are disorder, that's what I had.
Vola was a standout character, both in her personality, backstory and wisdom – and I liked that Peter and Vola helped each other grow. There were useful lessons to learn about finding peace, and letting go. Aligning oneself with the circumstances, and adapting your course.
The fox communication was also very well-written. Pennypacker consulted experts on red foxes to portray their behaviour and communication in a way that was by and large realistic, with some room for artistic license to tell the story. Pax's chapters often reminded me of the 'Warriors' series by Erin Hunter, one of my all-time favourites featuring anthropomorphic (domestic) cats living in the wild. The illustrations were also excellent, and I enjoyed the artistic style and variety between little drawings in the corner (small but impactful), single page illustrations and double spreads.
The only critical thing I have to say is that certain chapter endings felt very abrupt. I understand that having 'cliffhanger' chapter endings would probably make a reader continue to the next (especially as we alternate POVs between Pax and Peter), but it still felt strange sometimes. Although I liked the ending – (highlight for semi-spoilers) bittersweet but realistic – it was done so quickly that it felt a little anticlimactic.
Overall, an emotionally resonant, wholesome and deceptively wise book.
Thanks for reading! Have you read 'Pax' or any other animal-related books? Let me know any thoughts below!