'Top 5 Saturday' is a meme created by Mandy @ Devouring Books, where you list your top 5 books of the current topic – these can be books that you want to read, have read and loved, have read and hated, etc. etc.!
Today's topic: Books inspired by mythology!
I actually love mythology, so the hardest part of this post will be narrowing it down to only five…
1. Percy Jackson and the Lightning Thief
Percy Jackson is a good kid, but he can't seem to focus on his homework or control his temper. School is only getting worse – Percy could have sworn his pre-algebra teacher turned into a monster and tried to kill him. When Percy's mom finds out, she knows it's time that he knew the truth about where he came from, and that he go to the one place he'll be safe. She sends Percy to Camp Half Blood, a summer camp for demigods, where he learns that the father he never knew is Poseidon, God of the Sea. Soon a mystery unfolds and together with his friends – a satyr and a demigod daughter of Athena – Percy sets out on a quest across the United States to reach the gates of the Underworld and prevent a catastrophic war between the gods.
The start of my all time favourite series – it's hilarious, original, educational and set me on the path towards studying archaeology and anthropology at uni!
2. 'Here Lies Arthur' by Philip Reeve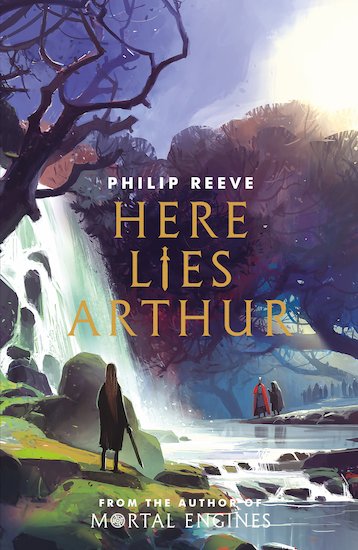 Gwyna is just a small girl, a mouse fleeing as her village is razed to the ground, when she is bound in service to Myrddin the bard – a traveller and spinner of tales. But Myrdin transforms her – into a lady goddess, a boy warrior, and a spy.
Without Gwyna, Myrddin will not be able to work the most glorious transformation of all – and turn the leader of a ragtag war band into King Arthur, the greatest hero of all time.
One of my favourite books of all time – this was such a refreshingly original spin on the origins of King Arthur (and many aspects of the legends that accompany this mythical figure). While reading, I ran the full gamut of emotions and this is not a book I'll ever forget.
3. The Sword of Summer ('Magnus Chase', #1) by Rick Riordan
Magnus Chase has seen his share of trouble. Now living on the streets of Boston, Magnus is suddenly approached by his strange Uncle Randolph, who starts rambling about Norse history and Magnus's birthright: a weapon that has been lost for thousands of years.
The more Randolph talks, the more puzzle pieces fall into place about things Magnus has never quite understood about his life. Stories about the gods of Asgard, wolves, and Doomsday… When a fire giant attacks, Magnus must choose between his own safety and hundreds of innocent lives…
Sometimes, the only way to start fresh is to die.
Riordan has done it again – lovable, nuanced , diverse characters dealing with more mature/dark themes than the 'Percy Jackson' series (at least the early PJO books), and hilarious to boot. Oh, and a great way to learn about Norse mythology!
4. 'The Song of Achilles' by Madeline Miller
Greece in the age of heroes. Patroclus, an awkward young prince, has been exiled to the court of King Peleus and his perfect son Achilles. As they grow into young men skilled in the arts of war and medicine, their friendship blossoms into something deeper – despite the displeasure of Achilles' cruel goddess mother, Thetis. But then word comes that Helen of Sparta has been kidnapped. Torn between love and fear for his friend, Patroclus journeys with Achilles to Troy, little knowing that the years that follow will test everything they hold dear.
Part devastating love story and part battle between gods and kings, peace and glory, immortal fame and the human heart.
Ugggh this book was just incredible. I KNEW what was going to happen and I sobbed like a baby anyway. Just like 'Circe' (below), this book was written beautifully with heart-wrenching poignancy and atmospheric evocation of the Homeric style.
5. 'Circe' by Madeline Miller
Circe, the daughter of Helios, god of the Sun and greatest of the Titans, has neither the look nor the voice of divinity. Scorned by her kin, she turns to mortals for companionship, leading her to discover a power forbidden to the gods: witchcraft.
When love drives Circe to cast a dark spell, wrathful Zeus banishes her to the remote island of Aiaia. There she learns to harness her occult craft, drawing strength from nature. But she will not always be alone; many are destined to pass through Circe's place of exile, entwining their fates with hers. The messenger god, Hermes. The craftsman, Daedalus. A ship bearing a golden fleece. And wily Odysseus, on his epic voyage home.
There is danger for a woman alone in the world, and Circe's independence draws the wrath of men and gods alike. To protect what she holds dear, Circe must decide whether she belongs with the godhood she is born into, or the mortals she has come to love.
This was just astonishingly written. Wonderful characterisation of a conventionally regarded 'villainous' female, wrapped up in beautiful prose and nuanced reflections on agency and morality in Greek mythology.
Thanks for reading! Do you enjoy mythology retellings? Which are your favourites – do we share any?