"You're not the first one who thought you could HELP me… or FIX me… or SAVE me… You're not the first one who thought you could CARE about me until you found out how bad it really was."
Rating:
4/5 paper planes
What's This Book About?
Genre: Science-Fiction-Fantasy (graphic novel)
Synopsis: Nimona is an impulsive young shapeshifter with a knack for villainy. Lord Ballister Blackheart is a villain with a vendetta.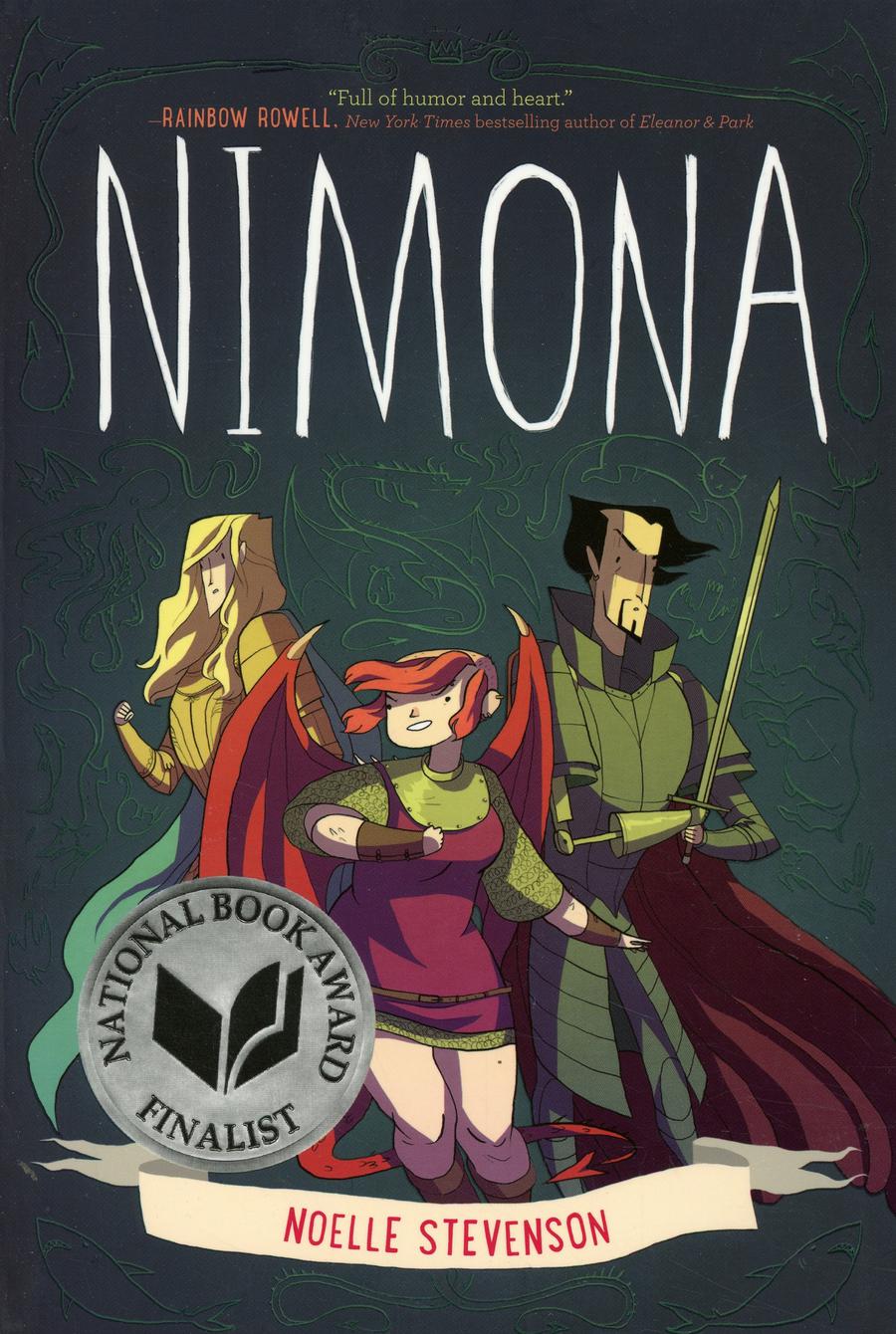 As sidekick and supervillain, Nimona and Lord Blackheart are about to wreak some serious havoc. Their mission: prove to the kingdom that Sir Ambrosius Goldenloin and his buddies at the Institution of Law Enforcement and Heroics aren't the heroes everyone thinks they are.
Nemeses! Dragons! Science! Symbolism! All these and more await in this subversive and irreverent epic, based on Stevenson's award-winning web comic.
What I Thought:
'Nimona' was a really funny and sarcastic read full of fantastic artwork, especially the shapeshifting scenes. (The text sometimes got a little too small for comfort, though.) I liked the strange (but effective!) blend of science and magic in a bizarrely high-tech medieval setting. I don't know how such a setting could have worked, but it did!
Lord Blackheart was an excellent character and antihero. I also enjoyed how Stevenson lightly outlines Blackheart's relationship with Goldenloin – suggesting their history (*subtle gay, subtle gay*) while never being heavy handed. I wasn't as invested in Sir Goldenloin's character, at least, not until I'd read the bonus comic at the back. (Another plus: the NAMES in this comic! They cracked me up!) I liked Nimona too – she's a mysterious one… I do question why Nimona joined Blackheart in the first place. (Highlight for spoilers) Is she really that 'beast'-like? Is it her essential nature to be 'evil'?
The ending was bittersweet, but also felt a tad rushed and incomplete. I still didn't really understand Nimona's character and (highlight for spoilers) how she survived the Purge – did she just vaporise and come back together again…with all her sentience and memories intact? I mean, yes this setting is surreal, but things still have to be believable.
Overall, a quirky, highly enjoyable and imaginative romp through a whole kingdom of subverted fantasy tropes! I'm glad I picked this one up.
Thanks for reading! Have you come across 'Nimona' or other great comics/graphic novels? What did you think? Let me know in the comments!