"You can be trapped in a castle, trapped in a scaldonry. Trapped by people. But the worst is being trapped by fear."
Rating:
4.5/5 paper planes
What's This Book About?
Genre: YA/MG fantasy (magical boarding school)
Synopsis: Even a secret town cannot protect Ivy from a mysterious darkness…
Only hours after Ivy Lovely discovers that she is the fulfillment of the Moonsday prophecy, she is whisked away to Belzebuthe, a secret town for those with magical blood.
Ivy sets out on a mission to uncover the second facet of the Kindred Stone while eluding the Dark Queen's wrath. But even when she's supposed to be safe, something is shadowing Ivy. She will need all her natural-born magic and more as she battles to find the rest of the Kindred Stone and return to the Halls of Ivy, before it's too late…
What I Thought:
It's always great when a sequel not only lives up to, but outdoes its predecessor! Returning us to the world of scrivenists (mages who channel magic through quills), 'The Girl with the Whispering Shadow' (incredible title) is just as full of ingenious and refreshingly original magical concepts as 'The Crowns of Croswald', with even more of the lovable characters, subtly chilling foreboding and hilarious moments that I enjoyed in Book 1.
One of my favourite things was the introduction of a popular scrivenists' game called 'Quogo' – eat your heart out, Quidditch! Quogo is almost like a magical RPG (role-playing game), where players battle it out with the spectres of retired or deceased scrivenists, using their decommissioned quills. I also loved the Quality Quills Club (where can I sign up?!), a secret society of amateur Quogo players run by our wonderful Fyn Greeley. I loved the dynamic within this friendship group, spiced up by the new additions of Ivy and Rebecca to its ranks, and they had so much great banter between them. Each QQC member felt realistic, especially after a certain accidental catastrophe, and I really look forward to seeing more of them in Book 3! This was a very well-written rendition of a found-family trope, if that's one you enjoy.
Speaking of character love, I have to include a tribute specifically to my favourites, Fyn and Rebecca! They're so loyal to Ivy but never come across as sycophants or merely foils, and yet again, Rebecca (in multiple scenes) proves herself an MVP in this squad. Fyn cracks me up so much with his sarcasm, and I'm completely invested in the adorable slow-burn between him and Ivy! I also grew to like Ivy more in this one – while some of her actions in the first book felt at times out of character, this book is where she really comes into her own and grows in confidence, maturity and just all around personality palpability.
Deep down, Ivy knew who she was: a slurry girl turned royal, an orphan denied her family's right, with the magic of the moon settled inside her, and now, the newest and proudest member of the Quality Quills Club. Her new family.
Great twists abound, with hints dropped here and there to amp up the apprehension, and several were rather disquieting.
I bring into being an orbis. Break her bones; use her for stew, sweet orbis; I challenge you. Let the magic she wields be left unspoken, her soul be harmed and deftly broken. The taste of her blood a fair token.
In general, this book's 'horror' level feels middle-grade to YA, but there were certainly some moments (like that one above) that gave me 'Criminal Minds'-type chills.
The Dark Queen definitely feels more genuinely threatening in this book compared to the first
, and we learn a bit more about her motives that clarify scenes in the first book.
"You let go of that stone, I let go of his life."
There were also plenty of new spells, creatures and even careers introduced – my favourite one being a teledetector matteler, a sort of teleporting magical police/CSI officer who can travel to crime scenes through mentally connecting through a scene sketch. I really like the style of magic in this series, it's very whimsical and strong on wordplay, which is right up my alley.
"Broken promises are one of the land's most bitter ingredients – great for a sundry of repellents."
"In another school, spelling might mean putting together letters to make words. At the Halls, spelling means putting together letters to make words to make spells."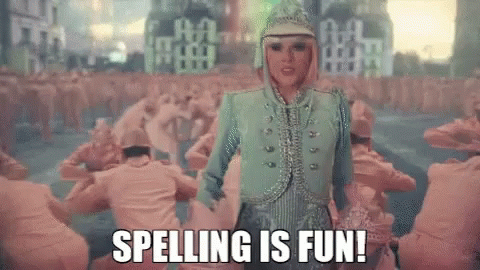 If you're a 'Harry Potter' fan, or on the hunt for more magical boarding school stories, I really recommend diving into this series! Following that slight cliffhanger (and its link to the title of Book 3), I'm so hyped for 'The Words of the Wandering', out May 30! Not long now before I can return to Croswald…
Thank you to Stories Untold LLC and Netgalley for a copy in exchange for an honest review.