TTT was created by The Broke and Bookish and moved to That Artsy Reader Girl (click here for upcoming TTT topics!).
The original topic title was 'The Last Ten Books I Abandoned', but given that I almost never DNF – either I'm lucky with the book I picked, or just have severe FOMO – I decided to switch it up (spicy, I know) and instead list 10 books that I want to read but keep putting off!
'The Raven Boys' by Maggie Stiefvater
Every year, Blue Sargent stands next to her clairvoyant mother as the soon-to-be dead walk past. Blue herself never sees them—not until this year, when Gansey, a Raven Boy, emerges from the dark and speaks directly to her.
Blue is inexplicably drawn to Gansey, despite having been warned that she will cause her true love to die. She never thought this would be a problem. But now, as her life becomes caught up in the strange and sinister world of Gansey and three other Raven Boys, she's not so sure anymore.
Reason for procrastination: Fear of disappointment (the hype for this is CRAZY!). And do I have the time to spare if I do indeed get sucked into that level of fangirling?
'Solitaire' by Alice Oseman
My name is Victoria Spring. I like to sleep and I like to blog. Last year – before all that stuff with Charlie and before I had to face the harsh realities of A-Levels and university applications and the fact that one day I really will have to start talking to people – I had friends. Things were very different, I guess, but that's all over now.
Now there's Solitaire. And Michael Holden.
I don't know what Solitaire are trying to do, and I don't care about Michael Holden.
I really don't.
Reason for procrastination: Complete and debilitating terror that this won't live up to my expectations – Oseman is my favourite author, and I WANT SO BADLY to be able to five-star this and somehow keep shying away from the risk of actually reading it and finding out.
'Radio Silence' by Alice Oseman
Frances has always been a study machine with one goal, elite university. Nothing will stand in her way – not even the person she is on the inside.

But Frances meets Aled, the shy genius behind her favourite podcast, and discovers a new freedom. For the first time she experiences true friendship, unafraid to be herself. Then the podcast goes viral and the fragile trust between them is broken.

Frances' dreams come crashing down, and she knows that she has to confront her guilty past. Meanwhile at uni, Aled is alone, fighting even darker secrets…

It's only by facing up to your fears that you can overcome them. And it's only by being your true self that you can find happiness.
Reason for procrastination: Fear of disappointment. And yes, the irony (given the blurb of 'Radio Silence') is not lost on me.
'Normal People' by Sally Rooney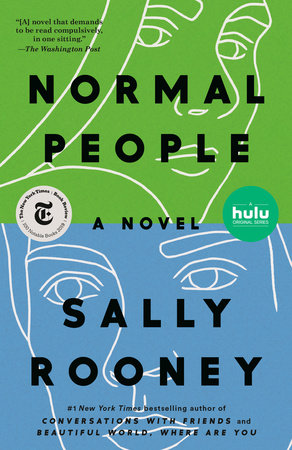 At school Connell and Marianne pretend not to know each other. He's the popular and well-adjusted football star, while she's lonely, proud, and intensely private. But when Connell comes to pick his mother up from her housekeeping job at Marianne's house, a strange and indelible connection grows between the two teenagers – one they're determined to conceal.
Next year, they're both studying at Trinity College in Dublin. Marianne has found her feet in a new social world while Connell hangs at the sidelines, shy and uncertain. Throughout their years in college, Marianne and Connell circle one another, straying toward other people and possibilities but always magnetically, irresistibly drawn back together. Then, as she veers into self-destruction and he begins to search for meaning elsewhere, each must confront how far they are willing to go to save the other.
Reason for procrastination: Mood reading and fear of disappointment! This is so highly recommended by so many, including a close friend of mine. I'm both nervous from that and also never feel in the right mood for this level of human intensity, especially as 'Normal People' falls well outside of my comfort genres.
'The Infernal Devices' trilogy by Cassandra Clare ('Clockwork Angel', 'Clockwork Prince', 'Clockwork Princess')
In a time when Shadowhunters are barely winning the fight against the forces of darkness, one battle will change the course of history forever.
The year is 1878. Tessa Gray descends into London's dark supernatural underworld in search of her missing brother. She soon discovers that her only allies are the demon-slaying Shadowhunters—including the mysterious boys Will and Jem. Soon they find themselves up against the Pandemonium Club, a secret organization of vampires, demons, warlocks, and humans. Equipped with a magical army of unstoppable clockwork creatures, the Club is out to rule the British Empire, and only Tessa and her allies can stop them…
Reason for procrastination: Mood reading – this trilogy has a reputation for breaking its readers' hearts, and I keep shying away from it because I'm not ready!!! I've also hardly ever read any steampunk fantasy before so that adds an extra level of trepidation to the mix. My feelings when I do finally read this will probably be something like:
'The Lie Tree' by Frances Hardinge (illustrated by Chris Riddell)
It was not enough. All knowledge – any knowledge – called to Faith, and there was a delicious, poisonous pleasure in stealing it unseen.
Faith has a thirst for science and secrets that the rigid confines of her class cannot supress. And so it is that she discovers her disgraced father's journals, filled with the scribbled notes and theories of a man driven close to madness. Tales of a strange tree which, when told a lie, will uncover a truth: the greater the lie, the greater the truth revealed to the liar. Faith's search for the tree leads her into great danger – for where lies seduce, truths shatter…
Reason for procrastination: Double whammy fear of disappointment! I adored Hardinge's 'A Face Like Glass', and Chris Riddell is one of my favourite illustrators. I've not yet read another Hardinge novel partly because I'm so afraid of having my enjoyment be a one-hit wonder.
'Kingdom of Ash' ('Throne of Glass', #6) by S.J. Maas
[Redacted all the spoilers from this synopsis! 😂]
The final battle is here.
Aelin Galathynius has vowed to save her people―but at a tremendous cost. [SPOILER REDACTED] Aelin must draw upon her fiery will as she [SPOILER REDACTED]. The knowledge that [SPOILER REDACTED] will doom those she loves keeps her from breaking, but her resolve is unraveling with each passing day…
With [SPOILER REDACTED], friends and allies are scattered to different fates. Some bonds will grow even deeper, while others will be severed forever. As destinies weave together at last, all must fight if Erilea is to have any hope of salvation.
Reason for procrastination: Character protectiveness. The books just get increasingly heart-wrenching as the series progresses, and given how much I now care for Chaol especially after 'Tower of Dawn', I am TERRIFIED for the final battle. I've had the library book with me since before lockdown and I still haven't opened it!
'The Great Mogul Diamond' ('The Dopple Ganger Chronicles', #3) by G.P. Taylor
After unraveling the "secret of indigo moon", and running away from Isambard Dunstan's School for Wayward Children, where perilous mysteries just seem to develop, Erik Morrissey Ganger and his friends Sadie and Saskia Dopple receive an anonymous note threatening someone they love.
Erik and the twins Sadie and Saskia are thrust yet again into a series of crimes and shenanigans that look suspiciously like something from the pages of a mystery novel.
Reason for procrastinating: No library copies! I read the first two books with my local library in Hong Kong, but they didn't have the third one, and sadly my library here in the UK only has the first book. I'd rather not buy only the third book in a series, so I suppose I'll just wait till I stumble across a copy… They were pretty much the first graphic novels/heavily illustrated books I'd read so I'd love to continue with the series!
Thanks for reading! Do we share the habit of procrastinating anticipated reads? Link me your TTT list if you've made one 😊