#SixforSunday is a fun weekly meme created by Steph @ alittlebutalot – check out the upcoming prompts here!
Today's topic: book series that I've been dying to read!
These are all duologies/trilogies/sagas/what-have-you that I own at least the first book of but haven't yet read! Reasons range from procrastination (fear of the hype), practicality/logistical problems and my own idiocy.
'Aurora Rising' by Jay Kristoff and Amie Kaufman
The year is 2380, and the graduating cadets of Aurora Academy are being assigned their first missions. Star pupil Tyler Jones is ready to recruit the squad of his dreams, but his own boneheaded heroism sees him stuck with the dregs nobody else in the Academy would touch…
And Ty's squad isn't even his biggest problem—that'd be Aurora, the girl he's just rescued from interdimensional space. Trapped in cryo-sleep for two centuries, Auri is a girl out of time and out of her depth. But she could be the catalyst that starts a war millions of years in the making, and Tyler's ragtag squad might just be the last hope for the entire galaxy.
I've had this book for almost a year now. The second has just released. AND I'VE STILL NOT READ IT YET!! Bookstagram is absolutely buzzing about it…I gotta try to avoid spoilers.
'And I Darken' by Kiersten White
Wrenched from her homeland and abandoned by her father to be raised in the Ottoman courts, Lada Dragwlya has known that being ruthless is the key to survival.
Lada despises the Ottomans and bides her time, planning her vengeance. Her brother Radu longs only for safety. When they meet Mehmed, son of the sultan, Radu feels that he's made a true friend – and Lada wonders if she's finally found someone worthy of her passion.
But Mehmed is heir to the empire that Lada hates – and that Radu now considers home. Together, Lada, Radu, and Mehmed form a toxic triangle that strains the bonds of love and loyalty to the breaking point.
I have the first two books on my Kindle and I absolutely love what this blurb promises (retellings? Yes, PLEASE). I've also not read many antiheroines, if at all…
'Daughter of Smoke and Bone' by Laini Taylor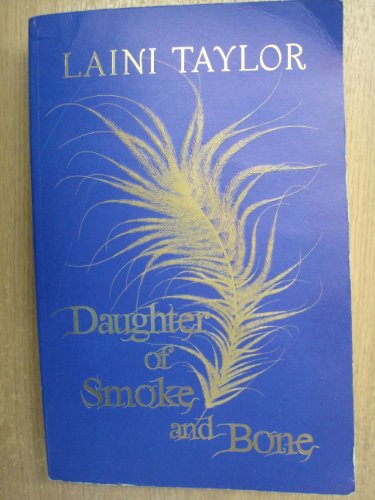 Around the world, black hand prints are appearing on doorways, scorched there by winged strangers who have crept through a slit in the sky. In a dark and dusty shop, a devil's supply of human teeth grows dangerously low. And Karou, a young art student, is about to be caught up in a brutal otherworldly war.
Karou's sketchbooks of monsters, mysterious "errands", multiple languages – not all of them human – and her naturally blue hair make her question who she is.
When beautiful, haunted Akiva fixes fiery eyes on her in an alley in Marrakesh, the result is blood and starlight, secrets unveiled, and a star-crossed love whose roots drink deep of a violent past. But will Karou live to regret learning the truth about herself?
One of the books that gets recommended to me over and over! I really need to read this so I can understand the reference to it in Taylor's other book 'Muse of Nightmares'.
'Mortal Engines' by Philip Reeve
The great Traction City of London has been skulking in the hills to avoid the bigger, faster, hungrier cities loose in the Great Hunting Ground. But now, the sinister plans of Lord Mayor Mangus Crome can finally unfold.
Emerging from its hiding place in the hills, the great Traction City is chasing a terrified little town across the wastelands. Soon London will feed.
In the attack, Tom Natsworthy is flung from the speeding city with a murderous scar-faced girl. They must run for their lives through the wreckage – and face a terrifying new weapon that threatens the future of the world.
I absolutely adore Reeve's other trilogy 'Railhead', and I have an entire (signed!) set from when I went to his talk last year. All with the Ian McQue covers, which is perfect as all my Reeve books match now. (Took ages to hunt down the McQue cover for Reeve's 'Here Lies Arthur'!)
'A Darker Shade of Magic' by V.E. Schwab
Most people only know one London; but what if there were several?
Kell is one of the last Travelers – magicians with a rare ability to travel between parallel Londons. There is Grey London, dirty and crowded and without magic, home to the mad king George III. There is Red London, where life and magic are revered. Then, White London, ruled by whoever has murdered their way to the throne.
But once upon a time, there was Black London…
I need to stop buying books I desperately want to read then leaving them halfway across the world in my Hong Kong home. I've had this book since 2018!! Still unread!!
'The Crowfield Curse' by Pat Walsh
An angel is buried behind the abbey!
It's 1347, and Will, an orphan boy, lives and works as an apprentice of the Crowfield monks. Sent into the forest to gather firewood, he stumbles across a trapped, wounded creature no bigger than a cat.The little goblin shares a terrible secret: Buried deep in the snow behind the monastery is an angel. But, Will wonders, how can an angel die? And what does this angel have to do with the history of Crowfield?
When two cloaked strangers show up and start asking questions, Will is drawn into a dangerous world of Old Magic.
I want. To read this. So badly. But it's in my Hong Kong home and more unreachable than ever right now! Gnashing my teeth at past Sabrina for not having hurried up and read it when she had the chance…
Thanks for reading! What series are topping your TBR? Do we share any of the same ones? Let me know any thoughts below!