All our actions are little drops that collect into a groundswell for change. It's the only way most change happens. Ordinary people doing everything they can.
Rating:
3/5 paper planes
What's This Book About?
Genre: YA contemporary (rom-com; activism)
Publication: 4th Feb 2020
Synopsis:
YES
Jamie Goldberg's cool with volunteering for his local state senate candidate – behind the scenes. When it comes to speaking to strangers (or, let's face it, speaking at all to almost anyone), Jamie's a choke artist. There's no way he'd ever knock on doors to ask people for their votes…
NO
Maya Rehman's having the worst Ramadan ever. Her best friend is too busy to hang out, her summer trip is canceled, and her parents are separating. Why her mother thinks the solution is political canvassing – with an awkward dude she barely knows – is beyond her.
MAYBE SO
Maybe it's not the worst thing in the world. After all, the polls are getting closer – and so are Maya and Jamie. Mastering local activism is one thing. Navigating the cross-cultural romance of the century is another thing entirely.
What I Thought:
A funny, light-hearted story, where the local political activism is arguably more present, meaningful and memorable than the romance.
The story follows two seventeen year-olds over a summer break, Jamie and Maya I'll talk about Jamie first because I really liked him (Maya much less so, for reasons I'll explain later). Jamie is an endearing white Jewish boy who is painfully awkward (to his mind at least), and his humour, earnestness and relatability easily made him one of the two standout points of this book. Almost every other page in his chapters had me clapping my hands over a startled chuckle or simply bursting into laughter. I loved him so much, and this is a small thing but I really appreciated that he's shown to cry and express himself emotionally without shame/emasculation.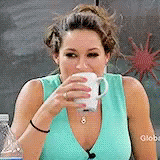 I also adored Jamie's sibling relationship with his little sister Sophie, whose bat mitzvah preparations are a sub-plot in this!
Maya, though, was tricky for me to like. (Rant incoming.) Initially, a lot of her 'badass', 'tell-it-like-it-is' personality simply seemed to consist of her annoyance or being rude to other people. She seemed quite defensive all the time – there was one instance where she thought Jamie was mansplaining to her, but to me it read like he was being nice because he misunderstood and thought she didn't know what Goldfish were – which brings me onto my next problem with her character. Maya (at least in the first two-thirds) seems to think people are mind-readers, blames them for not knowing what she's thinking despite her not having said a word about it, and doesn't realise her own financial privilege until we were pretty much in the home stretch. I was irritated when Maya lambasted her (one) friend Sara for spending time with other people and working multiple summer jobs.
"Gee, I'm sorry, Maya. I'm sorry my dad isn't a doctor who can fund my entire college education. I'm sorry I have to get scholarships and loans and even then have to save up so I can eat more than ramen noodles during college. Forgive me for trying to make a living for myself.
…I can't wait to have friends who aren't such damn high schoolers."
While 'high schooler' might be overly harsh, to be brutally honest, Maya really was acting incredibly selfish and immature about her friendship with Sara. I downright hate when people try to guilt others for choosing to be around people whose company you enjoy more and/or don't make you uncomfortable. Maybe you should reflect on yourself, instead? Maya seemed like the sort of person who, if you started having a proper debate with her (as a friend), would just get mad, start crying and walk out. Not the best discussion partner. In interests of fairness, Maya does grow a little over the book, but it's largely concentrated near the end.
Onto the romance: okay, so I wouldn't call Jamie and Maya the 'cross-cultural romance of the century' (à la the synopsis). It's a slow-burn romance – a 'slowmance' as Jamie accidentally says – and they're certainly cute, but not OTP material for me… what does it mean if I'm not even bothered that they might not be endgame, and the only distress I felt was because my cinnamon roll Jamie was hurting? Plus I found one of the romance scenes incredibly unrealistic for two people that self-conscious – Jamie just in general and Maya about dating.
I actually found the ending rather limp, though fortunately it was resuscitated by an inspirational 'Authors' Notes' section.
It was great that Albertalli and Saeed decided to focus on kids who aren't old enough to vote yet but remain incredibly invested in pushing to change the world into a better place. It's all about hope and finding the little ways to make change where you can…and I certainly needed to read this given how hopeless I've been feeling for a while about injustices the world over. In particular, I'm often struck by how useless I feel towards the pro-democracy movement in my hometown of Hong Kong – I remember walking into my university lab in tears last summer after hearing news of triads beating people in subway stations and how the police ignored pleas for help. My heart breaks over and over but I have to do what I can, pray for change and remember that when people work together, miracles can happen.
"The world's really messy right now. And it's so hard to be twelve or thirteen or fifteen or seventeen, where you're old enough to get it, but…you can't vote."
The Authors' Notes about their own experiences with local activism following a spike in Islamophobia and anti-Semitism following the 2016 election really made me tear up. More so than anything in the novel itself. It really reminds me of how I only started paying emotional attention to politics (beyond anything merely factual or intellectual) after the Hong Kong situation really started to go downhill.
"It's not about waiting for the good parts of history. We're the ones who have to make them happen. We have to draw the timeline ourselves."
While some parts of the politics felt a bit simplified – like of course there are multiple sides to a policy debate, denying that is really not conducive to winning people over to your side – I did find the angle taken with Gabe really interesting. He's just as invested in the Rossum campaign winning, and he really does care about changing the world, but the means he's willing to employ (exploit?) to do that are very different to Jamie and Maya's.
I liked that Maya acknowledged that Muslims (being an extremely large group) vary all over the spectrum regarding dating, but I'm aware that several Muslim reviewers have critiqued Maya's religious portrayal as being shallow and more of a 'tick-the-diversity-box' feature. While Maya might just be more relaxed religiously (which is fine, so am I), it was interesting that Jamie's Jewishness permeates so much of his life, whereas for Maya, even though she's extremely affronted that Jamie accidentally offers her food during Ramadan (because surprisingly he's not a mind reader), that seems to be the extent of her religiosity. With the amount of food-related discussion going on between Jamie and Maya about Ramadan, the whole meaning of the month seems to be trimmed down to just the fasting aspect, for Maya at least – her parents bring up self-reflection and regaining focus several times, but I don't see this happening much with Maya. However, it's cool that she's fasting voluntarily and that it's clear her mother wears her hijab because she wants to – it challenges the Eurocentric stereotype of Islam as an oppressive religion. The anti-hijab bill that is discussed in the book really reminded me of the ostensibly secular 'veil law' in France.
"This world is set up for you – and the rest of us? We have to be nice while people tell us they'll arrest us for what we wear."
Overall, I'm glad we're getting an inspiring story about teens getting involved in politics and enacting change, even if they can't vote. It's going to be their world, after all. I suppose romance is just a bonus!
Thanks for reading! Have you read 'Yes No Maybe So' and what did you think? Let me know any thoughts below!