"Arbores loqui latine," Ronan replied. "The trees speak Latin."
Rating:
4.25/5 paper planes
What's This Book About?
Genre: YA paranormal fantasy
Publication: September 2012
Pages: 409 (hardback)
Synopsis: It is freezing in the churchyard, even before the dead arrive. Every year, Blue Sargent stands next to her clairvoyant mother as the soon-to-be dead walk past.
Blue herself never sees them—not until this year, when Gansey emerges from the dark and speaks directly to her.
Gansey is a rich student at Aglionby, the local private school. Aglionby boys, known as Raven Boys, can only mean trouble.
Blue is inexplicably drawn to Gansey, despite having been warned that she will cause her true love to die. She never thought this would be a problem. But now, as her life becomes caught up in the strange and sinister world of Gansey and three other Raven Boys, she's not so sure anymore.
What I Thought:
I've been procrastinating 'The Raven Boys' for years. I feared that it wouldn't live up to its hype (the fandom is HUGE), and paranormal fantasy isn't a genre I often read, but goodness me it delivered on the promises of an enthralling read!
First off, this book was ten times funnier than I'd expected, sharp, smart and sarcastically witty. I mean, I wasn't even expecting it to be funny. Whimsically dreamy? Sure! Spit my drink out cackle-worthy hilarious? No. So that was a pleasant surprise!
She tried to ignore that, this close to the man, he had the overpowering chemical scent of a manly shower gel. The sort that normally came in a black bottle and was called something like SHOCK or EXCITE or BLUNT TRAUMA.
Ronan Lynch's character cracked me up in particular!
I fully understand why he's a firm fan favourite and also got his own spin-off series.
"You seem to have an extremely large bag today, Mr Lynch," Whelk said.
"You know what they say about men with large bags," Ronan replied. "Ostendes tuum et ostendam meus?"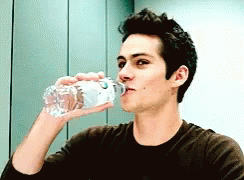 The Latin I take to mean something like "you show me yours and I show you mine". (Disclaimer: I've never studied Latin.)
The friendship group and found family theme in this book is stellar. I loved them all, 10/10 would go down swinging for them. I did initially get the Raven Boys slightly muddled but each character quickly becomes very distinct, all with wildly different personalities, but united by their devotion to each other and the hunt for Glendower, a legendary Welsh king.
Glendower was more than a historical figure to Gansey. He was everything Gansey wished he could be: wise and brave, sure of his path, touched by the supernatural, respected by all, survived by his legacy.
Oh, my sweet, odd, golden hearted Richard Gansey III. Gansey was my favourite character (closely followed by Ronan), and I'm filled with fear by his fate. I'm almost afraid to read the sequel!
Gansey knew he had to make a difference, had to make a bigger mark on the world because of the head start he'd been given, or he was the worst sort of person out there.
The dynamics between the characters are also full of energy and endlessly engaging to read. I especially liked the relationship Blue has with her mother and aunts (not Neeve, go away Neeve), and the way Blue and Gansey slowly bond with each other.
[Blue] recognised the strange happiness that came from loving something without knowing why you did, that strange happiness that was sometimes so big it felt like sadness.
You may have noticed I've been using quote after quote after quote in this review. That's because I love Stiefvater's writing style! In this book, at least – it was much more compelling, suspenseful and simply beautiful writing than I remember from her other book, 'Shiver'. Great examples of Stiefvater's atmospheric, mysterious, immersive writing are when the characters find Cabeswater, and also the creeping, insidious unfurling of the antagonist's identity (who I loathed), past crimes and future schemes.
"Nomine appellant," Ronan read. "Call it by name." He paused. "Cabeswater."
I will admit that on occasion Stiefvater's writing leans a little past the mysterious into the realm of confusing – though at least the confusion still feels dream-like and mystical, so there's that!
While there was less romance than I expected – which was totally fine, I rate the focus on friendship! – I didn't understand why (highlight for spoilers) Blue repeatedly failed to clock that Gansey was her true love. Even after the vision she has of the future where she and Gansey are in love. GIRL! Connect the dots! (end of spoiler) Additionally, how does Blue not have any other friends? I just found that odd, given that she'd lived in Henrietta all her life and doesn't lead a particularly hermit-like lifestyle.
That ending had me raring to read 'The Dream Thieves', which I'm hoping by the cover features a Ronan POV! I'd love to get inside his head (in the least creepy way possible). I haven't been able to read it yet because of multiple review deadlines, but I'm expecting to get to it next week. Stay tuned…
Thanks for reading! What do you think of 'The Raven Boys'? Love, hate or something in between? Let me know your thoughts below…