TTT was created by The Broke and Bookish and moved to That Artsy Reader Girl (click here for upcoming TTT topics!).
Today's topic: books that made me smile!
Earlier today I saw Virginia @ The Sassy Library Fox's TTT, and she asked about different types of smiles. Now I've felt inspired to think about what specific kind of smile each of the books below elicit!
'The Graveyard Book' by Neil Gaiman – a wistful smile
This book follows the life of Nobody 'Bod' Owens, who as a baby is taken into the care of the graveyard's paranormal inhabitants, after his entire family is brutally slaughtered by the sinister Man Jack. Bod grows up and must confront this Jack, while figuring out his place in the world as a living boy raised by the dead.
I absolutely love this book. It's probably my favourite standalone novel of all time! There's everything I'd ever want: plot, character, meaning, beautiful prose – and leaves me with this bittersweet, hopeful yet satisfied feeling. Hence the wistful smile!
'Heartstopper' by Alice Oseman – a BEAM of a smile
This graphic novel/webcomic follows Charlie Spring (left on the cover) and Nick Nelson (right) as they meet at an all-boys grammar school, become friends…and slowly but surely fall in love.
'Heartstopper' is hands-down my favourite comic EVER. It portrays so many different people on the LGBTQIA+ spectrum, tackles important topics like mental health while spotlighting hope and recovery, AND is adorable and hilarious to boot. Oseman deserves every success she has!
'The Extraordinaries' by T.J. Klune – a laughing smile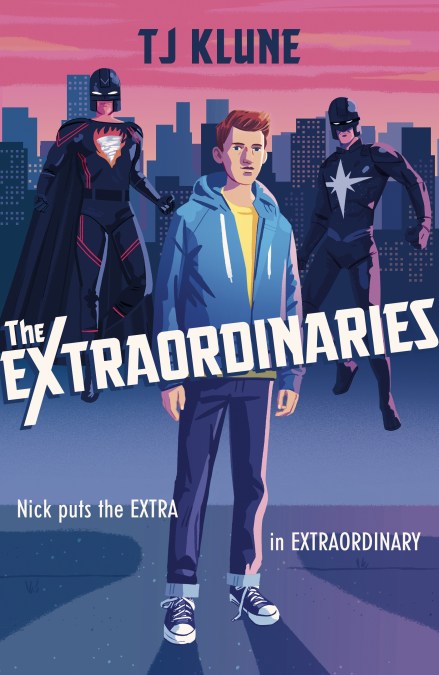 This #ownvoices superhero comedy follows sixteen-year-old Nick, who's gay, has ADHD and is a huge fanboy of the superpowered Extraordinaries. After meeting his crush, the superhero Shadow Star, Nick's determined to become Extraordinary himself, with or without his best friend Seth's help. Oh, and Seth might be the love of Nick's life. So, just regular teen things!
I laughed so hard at this book that I literally cried. When was the last time that happened?! I'm posting about it on my Instagram tomorrow (link in my social menu above or scroll down to the bottom!) and my review will be up on here soon.
'Carry On' by Rainbow Rowell – a laughing smile
Set in a Harry Potter-esque world of magic, 'Carry On' follows Simon Snow (left) and Baz Pitch (right), reluctant roommates (OH MY GOD THEY WERE ROOMMATES) turned grudging allies turned friends turned *wtf we kissed?!?* lovers! Oh wait, that's not the whole plot – they're also trying to find out who murdered Baz's mum, and fight off a menacing, magic-sucking monster too.
This book is forever associated with the summer of 2019, when I inhaled this book in one day. It is laugh-out-loud hilarious, touching, romantic and inventive, and awoke in me a love of bracketed parenthetical sentences. (Like so.)
'What If It's Us' by Becky Albertalli and Adam Silvera – a wistful smile
This YA rom-com takes place over the summer and follows Arthur and Ben after a meet-cute at the post office. Given the struggle to find each other again, the amount of failed dating attempts and a mismatched approach to romance, maybe love just isn't in their cards right now. But what if it is?
This was an adorable ray of sunshine that was unexpectedly moving and realistic – and it's hopeful. Being patient and knowing that you have this person in your life, for better or worse, whether it's romantic or platonic. Such quiet yearning and the ever-rolling expanse of possibility – 'what if it's us'?
'Red, White & Royal Blue' by Casey McQuiston – a laughing through tears of joy smile
Starring Alex, First Son of the United States, and Henry, an English prince, this book features an enemies-to-lovers arc, a presidential race, loads of historical love letters, some shady politics, hordes of paparazzi and lots of intercontinental banter.
This book was a wonderful escape into a nicer alternate universe where love can win in a gloriously dramatic fashion. The correspondence between Henry and Alex was both hilarious and beautifully heart-wrenching. The YEARNING.
'The School for Good and Evil' by Soman Chainani – a surprised and laughing smile
Welcome to The School for Good and Evil, where students learn how to be the heroes and villains in the fairytales that they'll live after they graduate. Golden Sophie is sure she'll be in the School for Good, while her awkward friend Agatha seems perfect for the School for Evil. But not all princesses and witches look like they do in the storybooks…
This is one of the best cover buy surprises ever! I was hoping it would be good, given the blurb and awesome cover, but I was absolutely bowled over by the subversiveness, the imagination, the humour, the characterisation and the plot twists.
'Warriors: Into the Wild' by Erin Hunter – a smile of nostalgia
When Rusty, a housecat, runs away from home and joins a warrior Clan of wild cats living in the forest, he has no idea what he's in for. Hunting for survival, defending the borders against the other three Clans, a conspiracy to usurp the Clan leader, all while being scorned by most Clan cats for having been born wild.
I don't think I realised as a kid just how epically awesome the 'Warriors' books are. They have literally everything I could ask for in a book. They even have an intricate cosmology! And maps! The original series just really sets the bar for all other anthropomorphic books I read now.
'Confessions of a Shopaholic' by Sophie Kinsella – a laughing and nostalgic smile
Becky Bloomwood is a financial journalist…who should really follow the advice she gives to her readers. She's completely addicted to retail therapy, slowly sinking in credit card debt. She tries trick after trick to stop herself – but can she?
This is definitely one of my comfort reads! Becky's such a unique character and makes me laugh in every installment of this series that I've read so far. She's like that friend who's got a lot of exasperating issues, but you love her so you stick it out until she eventually gets herself back on her feet.
Percy Jackson's Greek Gods – a laughing and nostalgic smile
This anthology of Ancient Greek myths is lavishly illustrated and narrated by none other than Percy Jackson, son of Poseidon and star of Riordan's 'Percy Jackson & the Olympians' series.
I couldn't make this list without including something Riordan-related! That would be blasphemy! I loved Percy's witty narration and how socially relevant these renditions of the myths are, especially with its emphasis on feminism and how wrong it is to victim-blame sexual assault survivors.
Thanks for reading! Bit of a late one from me today. Do we share any of the same books? Link me your TTT/let me know any thoughts you have below!