#5OnMyTBR is a bookish meme hosted by E. @ Local Bee Hunter's Nook! You can read the announcement post here and see the list of prompts here!) It occurs every Monday when we post about five books on our TBR.
These are five of my most anticipated sequels!
I'll list their titles and covers but I won't include the synopses, as they're more often than not pretty spoilery!
'Rebel' ('Legend', #4) by Marie Lu
Last year I was SO excited to hear about a fourth novel coming out in the YA dystopian 'Legend' series, six years after the third ('Champion') was published!
I only read the series recently (2018?) so my Legend hype-feelings were still very much alive, and so I immediately bought it, then like a fool proceeded to put off reading it until I'm now indefinitely stuck halfway across the world from where it languishes on my bookshelf in Hong Kong.
Also its cover is one of the most beautiful I've ever seen. EVER.
'The Everlasting Rose' ('The Belles', #2) by Dhonielle Clayton
I quite enjoyed the YA dystopian 'The Belles', though I'm rather more interested in the villain's arc and secondary characters than the protagonist Camellia.
I do prefer the first cover but I definitely dig how the vines are ripping bits out of the title in this cover. Very cool.
I borrowed this from my library but had to return it before I could get to it! Hopefully I can read it soon.
'The Raven King' ('All For The Game', #2) by Nora Sakavic
I swear the sports contemporary AFTG trilogy is like the most hyped indie fiction I've ever seen. EVER. The fandom fervour is like 'The Raven Cycle'/'Carry On' level devoted and I absolutely love that an indie author can become that popular!
I have all three books on my Kindle and I've heard books two and three are incredibly emotional. I keep putting it off because I am cowardly too busy to cry but I really hope I can get to it before 2020 is out.
'One Dark Throne' ('Three Dark Crowns', #2) by Kendare Blake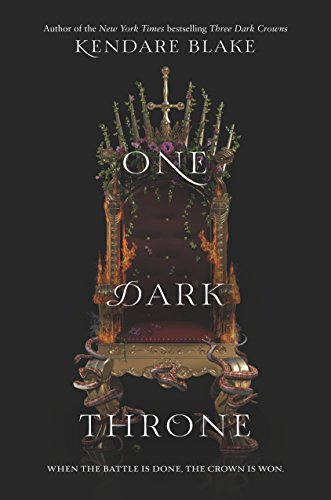 Given the way the YA fantasy novel 'Three Dark Crowns' ended (I called that twist! I called it!), I NEED to read the sequel. I keep procrastinating it until sometime when I can sit and binge through the next three books.
I have my favourite from Book 1 (Mirabella, she's such a cinnamon roll) and I wonder if that will change by the time we're through…
'The Words of the Wandering' ('The Crowns of Croswald', #3) by D.E. Night
I read the first two books of this middle-grade fantasy earlier this year thanks to NetGalley and really enjoyed them!
It gives me early 'Harry Potter' nostalgia and I really like the friendship group in this too.
The third book came out at the end of May and hopefully I can read it soon.
Thanks for reading! Do we share any anticipated sequels? If you've read them, how were they? Let me know below!