Rating:
4.5/5 paper planes
What's This Book About?
Genre: YA Sci-Fi; Mystery
Publication: 6 Oct 2020
Pages: 336 (hardcover)
Synopsis: Sometimes there's a town called Indianola. And sometimes there isn't.
Summer, 1993. Claire has been dumped in rural Indianola, Texas, to spend her whole vacation taking care of mean, sickly Grammy. There's nothing remarkable about Indianola, a dot on the Gulf Coast.
Well, there is one remarkable thing, she discovers. Something otherworldly. But if you leave Indianola, you forget about it… and if you stay, you have to live with it every day.
There's a confluence of energies at Indianola, a fissure in time and space, a gap in reality. Nothing is as it seems. And unless Claire can figure out this town – the talkative lizards under the pecan trees; the honey-sweet but terrifying girl next door; the cute daughter of a powerful family, who would answer Claire's questions if she had any answers; the pervasive sense of history coming unspooled, like a video tape – she might never leave.
Featuring a mindbending plot, heartfelt queer romance, brilliant writing, and intricate worldbuilding, Forget This Ever Happened is a lush and thrilling genre-bender perfect for the Black Mirror generation.
Content warnings: gaslighting; memory loss; internalised homophobia
What I Thought:
This was way creepier than I'd expected! In a good way, of course – I was anticipating a sort of mystery-paranormal-urban-fantasy, and this felt like a seamless, atmospheric blend of sci-fi-thriller-horror with a shimmering thread of a super soft sapphic love story. They were adorable and I thought the extra significance (no spoilers!) to their meeting and mutual attraction was nicely done.
I loved reading both POVs and the differences between their personalities and history. They're both at different points of the 'queer journey' – Claire just figuring out that that she can like a girl too, and Julie falling (again) for who she thinks is a straight girl. The close family bond between Julie and her older cousin Lawrence was nice to see too. There are few supporting characters but the ones we do meet (just Lawrence, really) are nice and I cared about them, if not as much as the two leads.
The 'forgetting' and memory warping was a great premise – so creepy. The antagonist was so nauseatingly off, wrong and weird and I got big Other-Mother ('Coraline' by Neil Gaiman) vibes.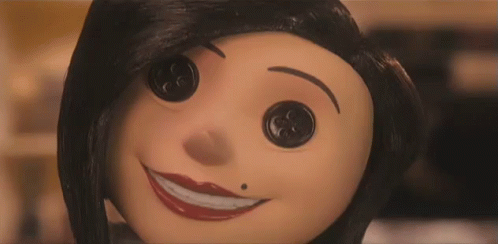 God. So creepy. Don't think I'm ever watching that movie again.
The antagonist's motives were believable and I definitely shared Claire's reaction to them!
There is a lot of the 'adults being useless' trope here, which isn't my favourite. However, I wonder if it's to do with the magic vs adulthood concept (like in 'The Polar Express'), more than being a YA genre convention?
Recommended for 'Riverdale' and Teen Wolf' fans – while I did give up on 'Riverdale' a few seasons in, I still really enjoyed this!
Favourite Quotes:
[Claire] wonders what her and Julie's intertwined scents smell like to the monster. A friend back in Houston had a perfume-making kit, and they used to tap the essential oils onto strips of paper and mix the scents together that way. Maybe it's something like that. Individually, she and Julie are one way, but together, they become something new.
All the things in the world create music, and as we move through the universe, that music runs into other music and overlaps. Everyone in the town overlaps with everyone else, and together they create the music of Indianola.
[Julie] thinks about all the adults who have dismissed her concerns. Maybe accepting the monsters is a part of growing up. She's not sure what that means about growing up, though.
[Julie] always dreams of the future, not the present and certainly not the past. But now she understands that the future and the past are part of the same line. They cannot be separated.
Julie looks over at Claire and feels a surge of electricity between them, then a sudden jolt in the air, and for a half second they are not on a playground in Indianola but standing in front of a coffee shop on a busy street, Claire with a backpack slung over one shoulder, Julie with a stack of flyers for a movie premiere. Her movie, she knows. Their movie, that they made together.
Top 5 Reasons to 'Forget This Ever Happened':
the retro-chic romance/horror grungy vibe is perfect for spooky season reading
cute sapphic romance (bisexual and lesbian leads)
a great premise that blends different genres together
it's set in the 1990s (personally a rarity on my shelf for some reason…?)
likeable and relatable MCs, especially Claire realising she's bisexual
About the Author:
Cassandra Rose Clarke's work has placed in the Rhysling Awards and been nominated for the Philip K. Dick Award, the Romantic Times Reviewer's Choice Award, the Pushcart Prize, and YALSA's Best Fiction for Young Adults. ​She grew up in south Texas and currently lives in Houston, where she writes and serves as the associate director for Writespace, a literary arts nonprofit. She holds an M.A. in creative writing from The University of Texas at Austin, and in 2010 she attended the Clarion West Writer's Workshop in Seattle. Her latest novel is Halo: Battle Born, out now from Scholastic.
Author Links:
Website: http://www.cassandraroseclarke.com/
Twitter: https://twitter.com/seeorsea
Instagram: https://www.instagram.com/cassandraroseclarke/
Goodreads: https://www.goodreads.com/author/show/5331983.Cassandra_Rose_Clarke
Facebook: https://www.facebook.com/authorcassandraroseclarke
Tumblr: https://cassandraroseclarke.tumblr.com/
Book Links:
Goodreads: https://www.goodreads.com/book/show/48541124-forget-this-ever-happened
Amazon: https://www.amazon.ca/dp/0823446085?linkCode=gs2&tag=tesa0f-20
Barnes and Noble: https://www.barnesandnoble.com/w/forget-this-ever-happened-cassandra-rose-clarke/1135275356
Book Depository: https://www.bookdepository.com/Forget-This-Ever-Happened-Cassandra-Rose-Clarke/9780823446087
Indigo: https://www.chapters.indigo.ca/en-ca/books/forget-this-ever-happened/9780823446087-item.html?ikwid=Forget+This+Ever+Happened&ikwsec=Home&ikwidx=0#algoliaQueryId=e5a17a4ed34a6ec759edff0b7e145e29
Click here to view the rest of the TBR and Beyond tour schedule!
Thanks for reading! Have you read/heard of this book? Let me know your thoughts below!