The wayward sisters, hand in hand,
Burned and bound, our stolen crown,
But what is lost, that can't be found?
Rating:
4.5/5 paper planes
What's This Book About?
Genre: Alternate-historical fantasy (19th century; witches; women's suffrage movement)
Publication: 13 Oct 2020
Pages: 528 (hardcover)

Synopsis: In 1893, there's no such thing as witches. There used to be, in the wild, dark days before the burnings began, but now witching is nothing but tidy charms and nursery rhymes. If the modern woman wants any measure of power, she must find it at the ballot box.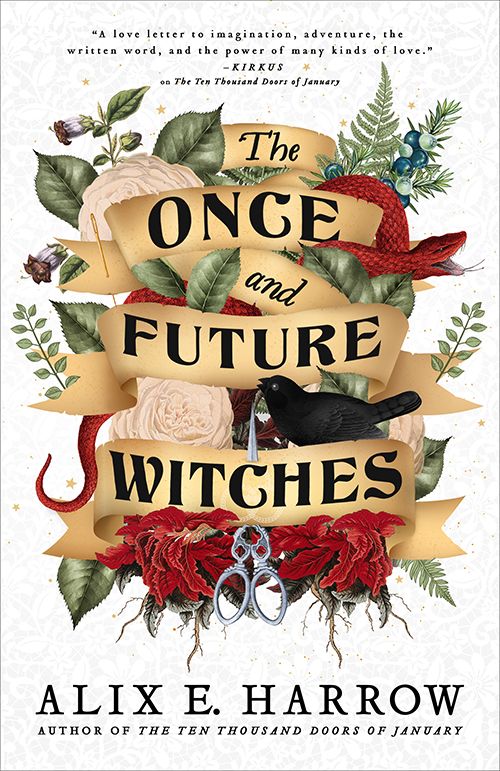 But when the Eastwood sisters join the suffragists of New Salem, they begin to pursue the forgotten words and ways that might turn the women's movement into the witch's movement. Stalked by shadows and sickness, hunted by forces who will not suffer a witch to vote – and perhaps not even to live – the sisters will need to delve into the oldest magics, draw new alliances, and heal the bond between them if they want to survive.
There's no such thing as witches. But there will be.
Content warnings: violence; torture during interrogation; injury and death; burning; complications in childbirth; kidnapping; memories of child and domestic abuse; memories of conversion therapy; homophobia; racism
What I Thought:
Apparently alternate-historical fiction/fantasy is a new genre I love! Once I cottoned on to how this book was an alt-hist-fic that gender-bends many famous folklorists (e.g. the Sisters Grimm, Charlotte Perrault) my level of enjoyment spiked. I love when legends familiar to us today are subtly reworked to fit the book's world – something I really liked in 'Sin Eater' by Megan Campisi too (another female-centred alt-hist-fic novel!). There were slightly reimagined fairytales dotted throughout the book, which was a real treat for me as someone who adores retellings.
The Eastwood sisters were three nuanced and distinctive leads, though I do wish that the POVs didn't change quite so often within the same chapter. While there are some amazing plot twists, this is more of a character-driven novel. James Juniper, Agnes Amaranth and Beatrice Belladona all have independent arcs that are also irrevocably tied to each other's. It's not just the leads who get nice character work – the villain's backstory exposition was excellent too.
[W]ickedness was like beauty: in the eye of the beholder.
I still get chills remembering how it all pieced together!
I really enjoyed the themes of sisterhood, of collective action and subtle, everyday resistance.
[T]here are words and ways waiting among the children's verses; power passed in secret from mother to daughter, like swords disguised as sewing needles.
I appreciated the support for
intersectional feminism
and how hurtful the lack of it is, and I was pleased that here
it is recognised that Anglo-American witching is only a sliver of all the witching in the world.
This sentiment was also reflected in how
the primacy of the written record is challenged and the power of oral tradition is asserted.
"Children's stories! Nursery rhymes! Nothing respectable, nothing verifiable!"
"Must a thing be bound and shelved in order to matter? Some stories were never written down. Some stories were passed by whisper and song, mother to daughter to sister."
It made me happy that there were also men allied wholeheartedly with the women, reminding me that there is no justice until there is justice for all, and how important it is to all work together.
It was another really pleasant surprise to find that this book features a diverse cast along several axes. Bella is lesbian and I believe has depression, Juniper is disabled (injured leg from a fire) and I think she may be aro-ace, one of the major secondary characters is trans, and there were also many other characters of colour, including Bella's love interest Cleo, who is Black.
Harrow has a way with words, and this book is full of lush prose, sharp wit, saturated emotion and quotable lines. Overall I really enjoyed her writing style, though near the end it started to feel repetitive and slightly melodramatic. Perhaps this was a corollary of the plot picking up as we drew to a close? I just want to know what happens next!
That's all magic is, really: the space between what you have and what you need.
I'd recommend picking this up if you're looking for a character-driven, feminist, witchy historical fantasy with diverse characters and found family elements! Definitely fitting for autumnal reading.
Thank you to NetGalley and Orbit for the eARC for an honest review.
Thanks for reading! Have you read 'The Once and Future Witches' or is it on your TBR? If you've read it, do we share any of the same opinions? Let me know below!