First Lines Fridays is a weekly feature for book lovers hosted by Wandering Words. 
What if instead of judging a book by its cover, its author or its prestige, we judged it by its opening lines?
How it works:
Pick a book off your shelf (it could be your current read or on your TBR) and open to the first page
Copy the first few lines, but don't give anything else about the book away just yet – you need to hook the reader first.
Finally… reveal the book!
"She opened the portal, and the mind met her more than halfway. Inside, it was tropical and snowing, and the first flake of the blizzard of everything landed on her tongue and melted."
Intriguing, vivid, and more than a little mind-bending. What do you think?
'No One is Talking About This' by Patricia Lockwood (publishing 16 Feb!)
Synopsis (from Goodreads): As this urgent, genre-defying book opens, a woman who has recently been elevated to prominence for her social media posts travels around the world to meet her adoring fans. She is overwhelmed by navigating the new language and etiquette of what she terms "the portal," where she grapples with an unshakable conviction that a vast chorus of voices is now dictating her thoughts.
When existential threats–from climate change and economic precariousness to the rise of an unnamed dictator and an epidemic of loneliness–begin to loom, she posts her way deeper into the portal's void. An avalanche of images, details, and references accumulate to form a landscape that is post-sense, post-irony, post-everything. "Are we in hell?" the people of the portal ask themselves. "Are we all just going to keep doing this until we die?"
Suddenly, two texts from her mother pierce the fray: "Something has gone wrong," and "How soon can you get here?" As real life and its stakes collide with the increasingly absurd antics of the portal, the woman confronts a world that seems to contain both an abundance of proof that there is goodness, empathy, and justice in the universe, and a deluge of evidence to the contrary.
Fragmentary and omniscient, incisive and sincere, No One Is Talking About This is at once a love letter to the endless scroll and a profound, modern meditation on love, language, and human connection from a singular voice in American literature.
Onto the mini-review! 'How the King of Elfhame Learned to Hate Stories' by Holly Black…
4/5 paper planes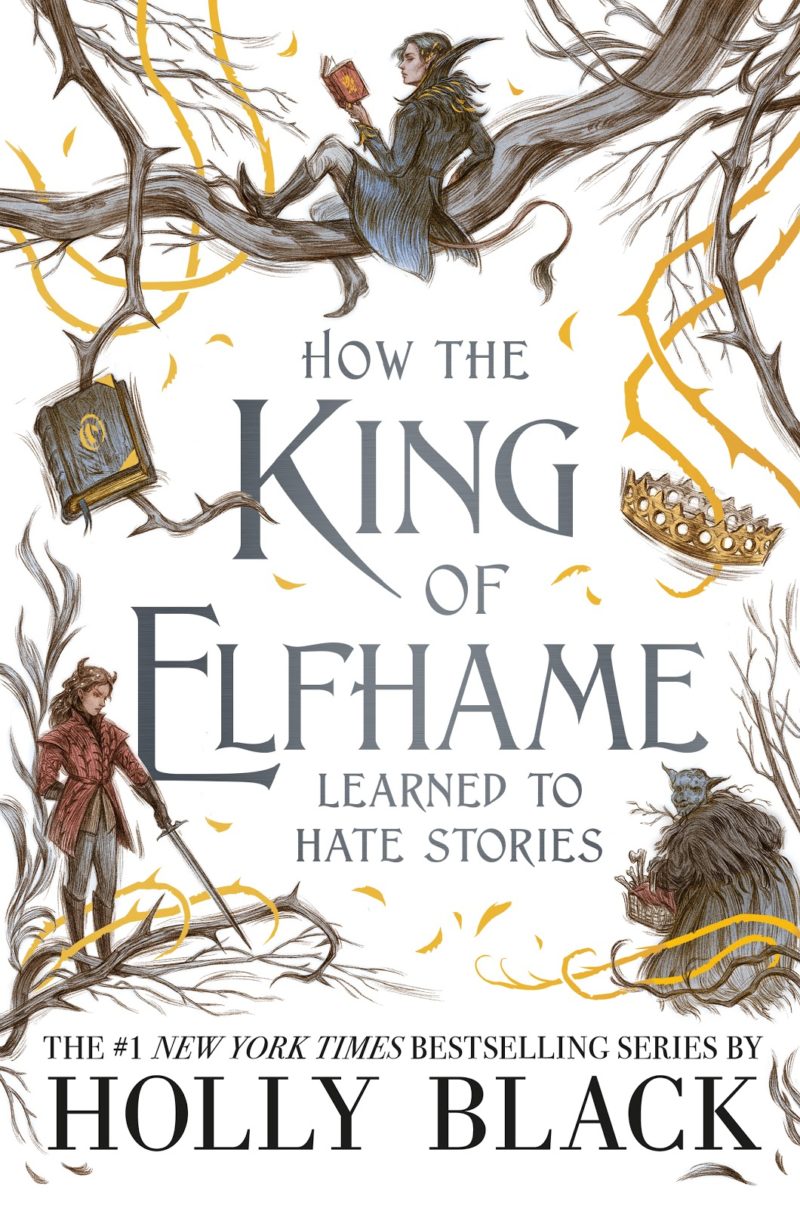 Once upon a time, there was a boy with a wicked tongue.
Before he was a cruel prince or a wicked king, he was a faerie child with a heart of stone. Revealing a deeper look into the dramatic life of Elfhame's enigmatic high king, Cardan, this tale includes delicious details of life before 'The Cruel Prince', an adventure beyond 'The Queen of Nothing', and familiar moments from 'The Folk of the Air' trilogy, told wholly from Cardan's perspective.
It was really fun to see Cardan in the mortal realm – him talking to the corner shop guy, the reference to the (great, imo) film 'Knives Out', and even trying dumplings and boba(!! I miss boba!!).
Cardan has a really engaging, colourful, sarcastic narrative voice and I'm even more fond of him now, especially a greater insight into his childhood story. Poor baby Cardan. It was also really interesting to see his and Nicasia's friendship forming and Cardan's POV of iconic scenes from the original trilogy! I also really enjoyed the variations on a core fairytale running throughout the novella – it kind of reminded me of 'A Monster Calls' by Patrick Ness, only with a lot less crying – and it was also nice to see Jude and Cardan's more mature, settled dynamic. All that angst has surely earned us some peace, right?
Thanks for reading! What did you think of those first lines? Are these books on your TBR or have you already read them – and what did you think? Let me know below!