Yesterday (18th Feb) was the birthday of the one and only j-hope of BTS, also known as Hobi, Jung Hoseok, Sunshine, Solecito and like a million other names that I probably don't know all of.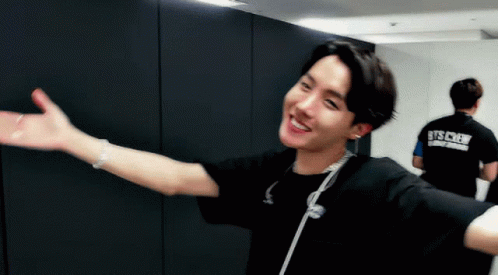 I wanted to paint something to celebrate his birthday and I picked his ICONIC scene from the 'Spring Day' music video… It took me AGES as I was painting in drips and drabs about a month in advance to try and make it in time for his birthday despite being super busy.
I had so much fun (and also struggles, but whatever) with the sky and the train, as I'd never really painted anything like that before. I do feel like I've learned stuff though, which is always nice! I also really liked the whole paper plane thing because of how it can link to j-hope's solo song Airplane (excellent, love it) and also my art and blog name.
Happy birthday Hobi (Korean and English):
☀️ hey, Hope World and the painting without text ☀️:
I'm really happy that I managed to paint this in time. I'm quite busy – was at an LGBTQ+ history conference all day and just heard back from one of my PhD applications that I've got an interview next week – so I've not been reading or doing blog stuff so much, but hopefully in March I'll be around more!
Thanks for reading! What do you think? Do you have a favourite MV scene (whether its BTS or another artist)? Let me know any thoughts below!