How's your week been going? (How is it already Friday again?!?)
So Tuesday 9th was Min Yoongi's birthday – aka SUGA of BTS, his rap king alter ego Agust D, his cute nickname 'lil meow meow', and I also recently found out he's called Tangerine Boy too (endless nicknames, endless) – and I luckily had time to do some fanart as a tribute! They were both experiments with art style so quite fun to try out.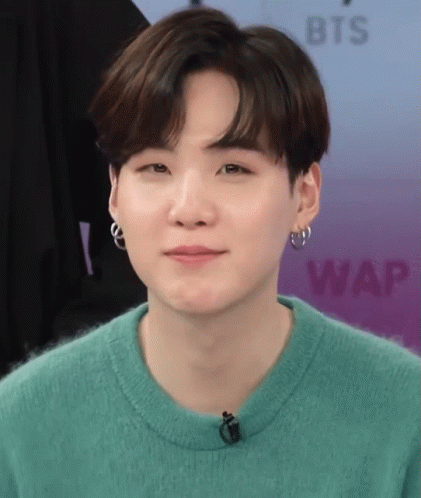 In stages: Peaceful Yoongi (alcohol markers)
This one was inspired by a 'Run BTS' episode where SUGA was sat near a sunny window, and he just looked so peaceful and warm and content that I just had to draw it! I guess it reflects my wishes for him to have peace, love, health and happiness this year.
I didn't bother with pencil or lineart before hand and just went in with markers.
I was terrified 😂 I didn't take a pic at the time, but prior to this stage I'd accidentally made his head waaaay too big for his torso, and he genuinely looked like Megamind Yoongi before I fixed his shoulders!
My plan was then to go in with thick lineart over the colour using my brush pen, but then…it just looked so soft!! I didn't want to ruin the peaceful vibe especially as that was exactly what I'd hoped to convey in the first place.
I ended up just doing teeny lines at certain places (though to be honest I think I overdid his lips a tad) and accidentally gifted him a mole courtesy of some loose ink 😂
I also tried doing some skin highlights with a white pen which I'd seen some other artists do and had always wanted to try! I love how it turned out so I'm 10/10 going to try that again. Out of everything, I think I'm most proud of how his his nose turned out hahaha.
Peaceful Yoongi – the finished version!
I managed to finish this one in an afternoon which is record time (by my standards lol) and I definitely think that it's because I didn't spend time agonising over a pencil sketch then detailed lineart before going ham with markers.
(Certainly a time-efficient approach that I will revisit in future given the number of drawings I want to do in a short span of time…)
Bonus birthday drawing: SUGA and his alter ego, the one and only Agust D!
I'd wanted to do a SUGA/Agust D fanart for AGES and this is just one of many concept ideas I had! Originally I was planning for this to be way more complicated, but I ended up really loving the simplicity but clarity of the sketch and wanted to try monochrome colours and rougher shading…so here we are.
The timing was quite serendipitous as I finished this a couple days before Yoongi's birthday!
Thank you for reading my art ramblings! What do you think? Plus let me know what's been going on for you this week – new books? New reviews? New favourite author? I'd love to know!