"Magic can't heal everything, can it?"
"No, it cannot heal everything. Like I said, it's only a temporary fix. True healing must come from within the patient themselves."
Rating:
5/5 paper planes
What's This Book About?
Genre: Middle-grade contemporary fantasy
Publication: 20 April 2021
Pages: 208 (hardback)

Synopsis: Can a bully be defeated by a magical love potion?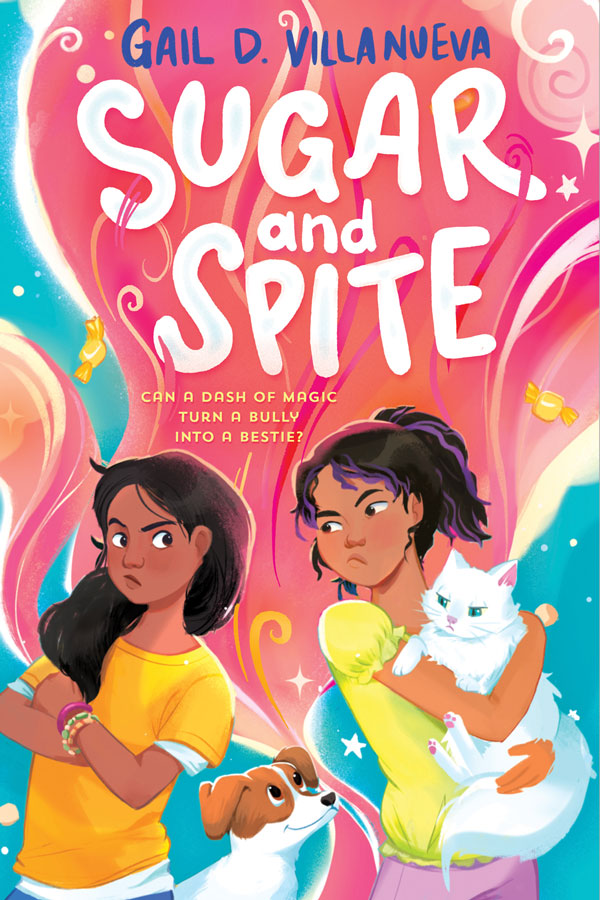 Jolina can't take Claudine's bullying any longer! The taunts and teasing are too much. Though Jolina knows she's still in-training to use her grandfather's arbularyo magic, she sneaks into his potions lab to get her revenge. Jolina brews a batch of gayuma, a powerful love potion.
And it works. The love potion conquers Claudine's hateful nature. In fact, Claudine doesn't just stop bullying Jolina-now she wants to be Jolina's BFF, and does everything and anything Jolina asks.
But magic comes with a cost, and bad intentions beget bad returns. Controlling another person's ability to love-or hate-will certainly have consequences. The magic demands payment, and it is about to come for Jolina in the form of a powerful storm…
Magic and reality mingle in this brilliant new middle-grade novel by Gail D. Villanueva that asks whether it's ever okay to take away someone's free will.
Content warnings (highlight to see): mild bullying; internalised colorism (challenged); loss of a pet; references to past loss of a loved one; strong tropical storm
This was such a wholesome, sweet read! If you read this, prepare to be immersed in a richly written setting and lose your heart to these characters (and pets!)
You really get so invested in these characters and their lives as Villanueva has created such real and tangible people. (I really didn't expect to cry the way I did!) Jolina has a very strong character voice – the 'colonizers are weird' part made me laugh so much – and I really enjoyed her character development! She doesn't start off a bad person at all, I actually completely understand her worries for herself and her family, and she's generally kind; she just becomes wiser, more thoughtful and understanding over the course of the book. I really loved getting to know Jolina too – their budding friendship was heartwarming, and yet heartbreaking when you remember that it's under the influence of the love potion gayuma.
Consent is what separates healing magic from self-serving magic. There are gray areas, but taking someone's right to choose usually ends up with terrible consequences."
I loved how aspects of Filipino culture were soaked into every bit of the book, from traditional food like balut and yema balls, to honorifics, polite customs and greetings. I'm definitely trying that yema ball recipe included at the back of the book!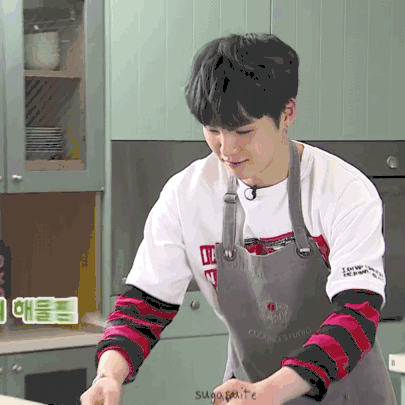 Image: gif of BTS' SUGA in an apron presenting a dish of food
This inclusion was effortless and even though I learned so much, it didn't feel like this representation was there to be educational, it was just…the fabric of the world. While I'm a curious cat and did Google lots of things, there's enough contextual information/translations in earlier and later sentences (and the 'Acknowledgements') that makes the story completely understandable even without looking things up.
I love a book with nuanced, layered characters and society and this was no exception. It touched on issues around old vs new money, colorism and homophobia in Filipino society, had positive LGBTQ+ rep (who weren't characterised just by their sexual orientation), metro vs countryside life, colonial legacies, etc. The side characters also didn't feel flat or 'filler' at all. I think this network of identities and personal histories all coming together, conflicting and intertwining were key to making this book feel so realistic and engaging.
What a wonderful book, and I'll be sure to check out Villanueva's past and future work!
Thank you to TBR & Beyond Tours and Scholastic for an eARC for an honest review.
TL;DR – Top 5 Reasons to Read 'Sugar and Spite'!
The protagonist has a great character arc
Such nuance in the depiction of the characters and surrounding society!
Pet-lovers, this one's for you. (Though please check the content warnings!)
So much Filipino culture in all parts of this book!
Believable, organic and wholesome friendship developments, and family bonds too!
Get the book for yourself!
Check out the rest of the tour here!
About the Author: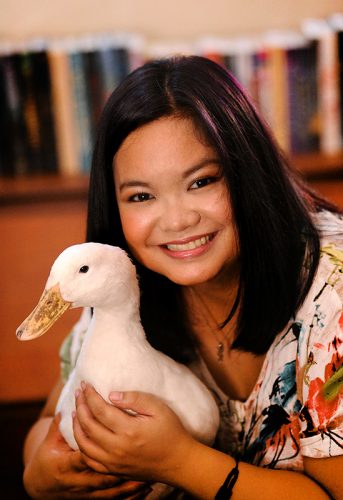 Gail D. Villanueva is a Filipino author born and based in the Philippines. She's also a web designer and an entrepreneur. She loves pineapple pizza, seafood, and chocolate, but not in a single dish together (eww). Gail and her husband live in the outskirts of Manila with their dogs, ducks, turtles, cats, and one friendly but lonesome chicken. Her debut novel 'My Fate According to the Butterfly' (Scholastic, 2019) was named a Best Book of the Year by Kirkus Reviews, an Amazon Best Book of the Month Editor's Pick, and a NCSS-CBC Notable Social Studies Trade Book for Young People. Gail's next book, 'Sugar And Spite', will be published by Scholastic on April 20, 2021.
Author Links:
Thanks for reading! Have you read 'Sugar and Spite' or is it on your TBR? (In case it wasn't obvious, I totally recommend adding it to your TBR if you haven't already!) What are your favourite children's or middle-grade books? Let me know below!