Day after day and night after night, she spun the dawn and unraveled the dusk.
Rating:
4/5 paper planes
What's This Book About?
Genre: YA fantasy
Publication: 4 March 2021 (originally published 9 July 2019 in hardback)
Pages: 416 (paperback)
Synopsis (from Hachette): On the fringes of the Great Spice Road, Maia Tamarin dreams of becoming the greatest tailor in the land – but as a girl, the best she can hope for is to marry well. Then a royal messenger summons her ailing father to court, and Maia seizes her chance. Disguised as a man, she travels to the Summer Palace in her father's place to compete for the emperor's favour, and the coveted position of imperial tailor.
If Maia's ruse is discovered, her life will be forfeit. But if she wins, she will achieve her greatest dream.
Yet nothing could have prepared her for the challenge ahead: to sew three magic gowns for the emperor's bride-to-be. One from the laughter of the sun, one from the tears of the moon, and one from the blood of stars.
Accompanied by the mysterious court enchanter, whose piercing eyes seem to see straight through her disguise, Maia's journey will take her to the far reaches of the kingdom, seeking the sun, the moon, and the stars, and finding more than she ever could have imagined.
Content warnings (highlight to see): loss of a loved one; pain and discomfort associated with chest binding (DIY bandages); sexism; sexual references and non-graphic sex scene; threat of sexual violence; whipping; violence and injury
What I Thought:
This was a fascinating, Asia-inspired and richly imagined fantasy from a new-to-me author that I will certainly be reading more from!
Part 1 was pretty much 5 stars for me – emotional, thrilling, intriguing and unexpected. Almost immediately, I was completely invested in Maia's family and her relationship with her brothers and it was deeply moving to read. The themes of family and home throughout this book was one of the standout elements for me.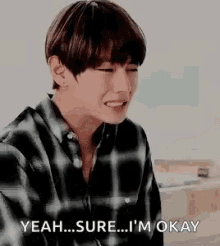 BTS' V crying and giving a thumbs up like he's okay…basically me after reading Maia's family backstory
I was also really pleasantly surprised by the brisk pacing of Part 1, galloping along with such energy and rising tensions as the trials progressed. The pacing (or my engagement?) dipped slightly in Part 2 but picked up again around 3/4 of the way through. There were some very shocking and dramatic plot twists (mostly in Part 1, though of course there were some great ones further along) and I was hooked by the layered revelations about certain side characters.
Speaking of side characters, I found Lady Sarnai (the emperor's bride-to-be) to be the most interesting character in the whole book. (Highlight for spoiler): I will admit I was hoping for a sapphic romance between Sarnai and Maia – I could feel the chemistry and I thought that was what the 'forbidden' romance in the blurb referred to. The uncertainty around her motives, true feelings and scheming is completely engrossing and I really hope we'll see more of Lady Sarnai in the second book!

BTS' Jimin saying: 'See you soon' [Lady Sarnai…]
Of course, I liked Maia too and it was nice to witness her character mature. She's a very believable character (even if certain action scenes were less so), and you can tell Maia is down-to-earth and really works hard on her talent even before the magic comes into play, which made her easy to like. Maia's romantic storyline also built up so sweetly and sincerely and it quickly became one of my favourite parts of the book! I honestly shipped it a lot more than I expected, especially given how I wasn't actually expecting a romance-heavy novel.
Returning to the topic of magic, I also loved the imaginative way the 'impossible' materials (the laughter of the sun, the tears of the moon, and the blood of stars) Maia must work with in her tailoring were conceptualised and manifested in physical form. The detailed depiction of tailoring craftsmanship was really refreshing to see – I don't think I've ever read a novel with a tailor as the protagonist? – and added to my interest in the book. The attention to Maia's sewing, fabric painting and other crafting tasks also enrich the already complex world-building. The book's map is just beautiful and I liked that the ethnicities, languages and customs were diverse across the regions that Maia travels.
I really enjoyed the banter between Maia and an enchanter she meets, Edan (one of my favourite characters in this) – it made me smile so many times! Edan's sense of humour reminded me a bit of Nikolai from Bardugo's Grishaverse (who I love), and his backstory and magic were quite interesting too.
With lingering questions, characters I worry for, a heart-wrenching bargain and rising court tensions in play, I'm definitely reading 'Unravel the Dusk' soon!
Thank you to NetGalley and Hodder & Stoughton for a copy for an honest review.
Thanks for reading! Have you read 'Spin the Dawn' or its sequel 'Unravel the Dusk'? What about Lim's other books? Let me know any thoughts below!