It's basic Avril Lavigne math. We were the junior theater counselors, He was our cute townie vocal consultant. You truly could not make it any more obvious.
Rating:
4.8/5 paper planes
What's This Book About?
Genre: YA contemporary
Publication: 22 April 2021 (ebook)
Pages: 400 (ebook)
Synopsis: Contrary to popular belief, best friends Kate Garfield and Anderson Walker are not codependent. Carpooling to and from theater rehearsals? Environmentally sound and efficient. Consulting each other on every single life decision? Basic good judgment. Pining for the same guys from afar? Shared crushes are more fun anyway.
But when Kate and Andy's latest long-distance crush shows up at their school, everything goes off script. Matt Olsson is talented and sweet, and Kate likes him. She really likes him. The only problem? So does Anderson.
Turns out, communal crushes aren't so fun when real feelings are involved. This one might even bring the curtains down on Kate and Anderson's friendship.
Content warnings (highlight to see): alcohol (underage); past divorce; reference to past cyberbullying; reference to homophobia; reference to past transphobia; swearing
What I Thought:
I can always count on Albertalli to make me laugh out loud, and this was no exception! I was cracking up right from the get-go and there were plenty of truly hilarious moments sprinkled throughout the book. Aside from humour, Albertalli also sensitively depicts more serious topics, such as past cyberbullying, emotions around divorce and social anxiety. This also made the story context and characters a lot more realistic and complex, as we get extra insight which helped me connect more deeply to the characters, especially Kate.
Albertalli wrote Kate so well that I had physical reactions right alongside her. I felt like I had a gravity well in my chest during the angsty parts and felt like blushing when she did!

BTS' j-hope clutching his chest, saying 'My heart is OMG'
Speaking of angst, surprisingly most of it was friend-related rather than romance – though, looking back at the blurb, I should have expected that! I absolutely adored the value and attention given to Kate's friendship with Andy. A love for the ages and a strike back against amatonormativity!
[P]eople are always saying that if they didn't know Andy was gay, they'd never believe we were just friends.
It's such bullshit. First of all, we're best friends.
Second of all, there's no just. Friendship isn't a just. Yes, Andy's gay. No, we're not a couple. But Anderson Walker is the most important person in my life, hands down.

BTS' V and Jimin (self-proclaimed soulmates and best friends) holding hands on a sunny day
Kate's relationship with her brother Ryan was another standout point, and it was so poignant and the development made me quite emotional (but somehow still stayed light and funny?!).
"Who would I even play [the guitar] for?"
"What do you mean, who would you play for?" Ryan said, shrugging. "Just play for yourself."
I also love how I've literally only just realised this was a love triangle. I'm not a fan of love triangles (they usually feel a bit contrived to me) but the messiness, intensity and awkwardness of Kate and Andy's feelings and respective situations felt so real that I completely didn't notice the trope, it was just what was happening. With the main romance (who I won't specify because it's spoilery), I shipped it so much! The love interest was one of my favourite characters, and the romance was super sweet, developed so naturally and was so utterly wholesome that I was grinning so much. If my heart could make noises other than lub-dub, it would be squealing.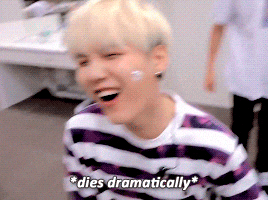 BTS' SUGA dramatically falling on the floor
I was somewhat of a 'theatre kid' myself so the framing of this book around a school play (ahem, a musical) was so fun to read. It was so cute that the chapters were 'Scenes' instead of regular chapters, and the way Albertalli wrote her acknowledgements like an end-of-show thank you speech. The main twist was a tad predictable, but I didn't care at all. There were plenty of other things I didn't guess! The drama didn't feel forced either as you can clearly see the difficulty of the characters' dilemmas, and Kate herself reflects on and critiques her choices, so this all made up for anything I saw coming.
I also appreciated the casual diversity, e.g. Kate and others are (own-voices rep) Jewish, Andy is Black and gay, and there are trans, lesbian, Latina, Asian and disabled characters too. I will say that there are quite a lot of characters which made it hard to remember the minor ones. The other two members of Kate and Andy's squad, Raina and Brandie, were really interesting but I felt perhaps a little underdeveloped. I would definitely love to read a spin-off/sequel about their stories!
Overall, this was such a bingeable, funny and heartwarming read. One of my favourite April reads and I'm looking forward (as always) to what Albertalli writes next!
Thank you to NetGalley and Penguin Random House Children's Books for an eARC for an honest review.
Thanks for reading! Have you read 'Kate in Waiting' or any of Becky Albertalli's other books? Also I'm curious as to what the title 'Kate in Waiting' means/refers to, I still don't know! Any info appreciated 💖