"You said that I am your oath now," I whispered, "so I bind you to me. No matter what happens, come back on the ninth day of the ninth month. Every year, I will wait for you – by the sea where I grew up, back home in Port Kamalan."
Rating:
4/5 paper planes
What's This Book About?
Genre: YA Fantasy
Publication: 1 June 2021 (paperback); originally published 7 July 2020
Pages: 355 (hardcover)
Synopsis: Maia Tamarin's journey to sew the dresses of the sun, the moon and the stars has taken a grievous toll. She returns to a kingdom on the brink of war. The boy she loves is gone, and she is forced to don the dress of the sun and assume the place of the emperor's bride-to-be to keep the peace.
But the war raging around Maia is nothing compared to the battle within. Ever since she was touched by the demon Bandur, she has been changing…glancing in the mirror to see her own eyes glowing red, losing control of her magic, her body, her mind. It's only a matter of time before Maia loses herself completely, but she will stop at nothing to find Edan, protect her family, and bring lasting peace to her country.
Content warnings (highlight to see): fire; grief; violence, injury and death; reference to past loss of loved ones; reference to torture; war
What I Thought:
[Read my review of 'Spin the Dawn' (Book 1) here!]
This was a tense follow-up to 'Spin the Dawn', with even higher stakes and several unexpected twists.
While I did prefer Book 1, I still enjoyed this! Things felt a lot more serious this time around – everything is still life-or-death but the consequences of Maia's choices, wins and losses reverberate far beyond just her and Edan. The constant sword hanging overhead with Maia's mortality/loss of identity also colours most of 'Unravel the Dusk' with more sombre tones. I don't know if this was deliberate but the cover of 'Unravel the Dusk' feels a lot darker and perhaps more unnerving than 'Spin the Dawn', which I think tracks well with the internal content.

Gif of a young Korean man with pale pink hair (BTS' Jin) looking in a mirror that shows a different reflection of a vase of flowers, and seeing a crack run down his face like ceramic
The very beginning was wound tight with unease and apprehension, with some shockers that I really didn't see coming. As we went on though, the first half started to feel a bit repetitive. The same concerns seemed to be rehashed over and over even though I was already very aware of them, with little progress to a solution. I also found the (early) action scenes a bit hard to follow/visualise.
However! Just after halfway through, things started really moving along and I was a lot more gripped and the action scenes were fast-paced, exciting and generally much easier to follow. (Also I'd just like to officially declare Ammi the underrated MVP of this duology. She deserves the world and must be protected.)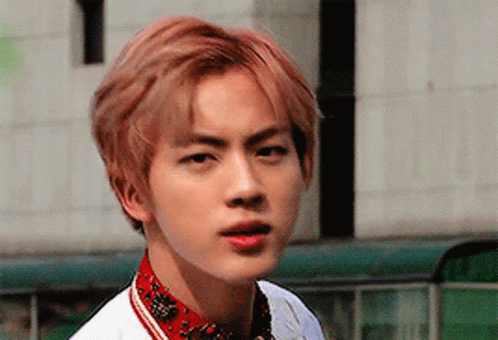 Gif of a peach-haired Korean man (BTS' Jin) sending a flying kiss to the camera
We also see the return of a character (I'm trying to stay spoiler-free) that I was desperately hoping to learn more about in 'Spin the Dawn', so I was very pleased about that. I found this character's choices very interesting and while I didn't agree with some of them I could certainly understand why they made them. They felt realistic which is something that can be said for pretty much all the characters. For example, I was annoyed at Maia quite a number of times, until I realised that what she was doing – and what she was able to do – actually made a lot of sense in terms of her character history.
Yet again, Maia's relationship with her family made me cry and I continued to love the romantic pairing as well. I did develop a bit of a pet peeve, though – I felt really weird any time Maia referred to Edan as a 'boy' given that he was a) over 1000 years old and b) not even a boy in regular human-age terms? (Why can't Edan just be a man?) It wasn't too much of a bother though.
Overall, I'm really pleased that I finally read this duology and I'm definitely checking out Lim's future work! I enjoyed seeing the Easter egg references to Shiori and her cranes (from the upcoming 'Six Crimson Cranes'!).
Thank you to NetGalley and Hodder & Stoughton for a copy for an honest review.
Thanks for reading! Have you read this duology yet or is it on your TBR? Who else is looking forward to Lim's next novel, 'Six Crimson Cranes'? Let me know any thoughts below!