Every other sleep, I dream of swimming to the horizon and finding my sister at the edge of the world. She takes me by the hand and leads us home. Home means a city in the sky, sometimes. Or another island. Home could be here, for all I care, if she were with me.
Rating:
4.8/5 paper planes
What's This Book About?
Genre: YA (maybe for older readers) sci-fi; dystopian; mystery/thriller
Publication: 4 May 2021
Pages: 384 (hardcover)

Synopsis: Cee has been trapped on an abandoned island for three years without any recollection of how she arrived, or memories from her life prior. All she knows is that somewhere out there, beyond the horizon, she has a sister named Kay, and it's up to Cee to cross the ocean and find her.
In a world apart, 16-year-old STEM prodigy Kasey Mizuhara lives in an eco-city built for people who protected the planet―and now need protecting from it. With natural disasters on the rise due to climate change, eco-cities provide clean air, water, and shelter. Their residents, in exchange, must spend at least a third of their time in stasis pods, conducting business virtually whenever possible to reduce their environmental footprint. While Kasey, an introvert and loner, doesn't mind the lifestyle, her sister Celia much preferred the outside world. But no one could have predicted that Celia would take a boat out to sea, never to return.
Now it's been three months since Celia's disappearance, and Kasey has given up hope. Her sister must be dead. But nevertheless, she decides to retrace Celia's last steps. Where they'll lead her, she does not know. Her sister was full of secrets. But Kasey has a secret of her own.
Content warnings (highlight to see): blood; grief; loss of a loved one; mass disasters; terminal illness; violence, injury and death, sex/sexual references; suicide
What I Thought:
Just looking at my ebook highlights for this review made me want to cry. 'The Ones We're Meant to Find' left me with a huge book hangover and oh, every time I think too much about this book my heart hurts! The day after I finished, I was trying to explain it to my family over Skype and then I started tearing up, even though I hadn't actually cried while reading (though I did have that heavy heart gravity well feeling). It's a special kind of book that makes you more emotional about it with every day elapsed.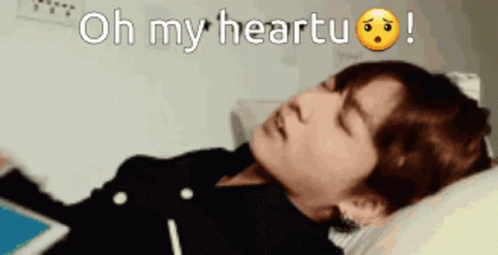 Korean boy (BTS' Jungkook) lying down, clutching chest and saying "oh my hearteu!" with an anguished face emoji
I found this very thought-provoking, with discussions ranging from ethics of AI; climate change and responsibility; colonial legacies; industrial exploitation and unequal playing fields regarding the ability to industrialise 'cleanly'.
"But what about privilege?"…"Those who industrialized first set rules for others. Territories behind the curve were expected to adopt clean energy and advance their societies after centuries of exploitation."
"And can you really even call yourself clean if you're just moving manufacturing out of your own backyard and into Territory Four's?"
The world-building was impressive from the start, layering over itself seamlessly as we progressed through the book. (This needs to be made into a movie!) The way links and references slowly emerged between Kasey and Cee's chapters was excellently done, giving me all the chills of a mystery-thriller. I think this is a book best read in one or two sittings if you're able to. It was really gripping but (as I wasn't able to read for a few days at a time) I sometimes forgot things in between chapters as there's quite a lot to keep track of, especially when switching between POVs.
Having previously read He's 'Descendant of the Crane' (my review here!), I shouldn't be surprised, but I was still shocked by how the book rockets off in such unexpected directions yet somehow remains plausible. He is so skilled at these kinds of punch-you-in-the-face twists!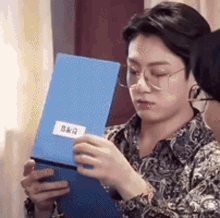 Korean man (BTS' Jungkook) whipping off sunglasses in shock after opening a game folder
I was initially incredibly confused by the ending, but after a few days I think I understand it more. It's a powerful and emotional finish that definitely keeps you going back to it in your head.
The characters were complex (even minor ones stole my heart) with very distinct voices between the two sisters, and I was so invested in their relationship and story. Oh, and now I'm getting emotional again…
I love you.
And even if you failed me,
I'd never replace you.
I cannot finish this review without also giving praise to possibly the most beautiful book cover I've seen in years! I could just stare at it for ages. I used to think I didn't like people on book covers, but I think this one has rid me of that notion forever.
Thank you to NetGalley and Text Publishing for an ARC for an honest review.