This is a power I've always had, one that I've earned, one that can't be taken from me by some capricious god.
Rating:
4.5/5 paper planes
What's This Book About?
Genre: Fantasy, mythological and historical inspiration
Publication: 8 June 2021
Pages: 448 (hardcover)
Synopsis: In her forest-veiled pagan village, Évike is the only woman without power, making her an outcast clearly abandoned by the gods. The villagers blame her corrupted bloodline—her father was a Yehuli man, one of the much-loathed servants of the fanatical king. When soldiers arrive from the Holy Order of Woodsmen to claim a pagan girl for the king's blood sacrifice, Évike is betrayed by her fellow villagers and surrendered.
But when monsters attack the Woodsmen and their captive en route, slaughtering everyone but Évike and the cold, one-eyed captain, they have no choice but to rely on each other. Except he's no ordinary Woodsman—he's the disgraced prince, Gáspár Bárány, whose father needs pagan magic to consolidate his power. Gáspár fears that his cruelly zealous brother plans to seize the throne and instigate a violent reign that would damn the pagans and the Yehuli alike. As the son of a reviled foreign queen, Gáspár understands what it's like to be an outcast, and he and Évike make a tenuous pact to stop his brother.
As their mission takes them from the bitter northern tundra to the smog-choked capital, their mutual loathing slowly turns to affection, bound by a shared history of alienation and oppression. However, trust can easily turn to betrayal, and as Évike reconnects with her estranged father and discovers her own hidden magic, she and Gáspár need to decide whose side they're on, and what they're willing to give up for a nation that never cared for them at all.
Content warnings adapted from author's list and my reading (highlight to see): animal death; anti-Semitism; cultural genocide and ethnic cleansing; gore, including dismemberment, amputation, mutilation, and immolation; murder (including reference to murdered children); past loss of a loved one; physical abuse by parent figures; self-harm (inc. self-amputation); sex and sexual references; torture (inc. whipping); violence; vomiting; xenophobia and colourism
This book was really hard to put down – despite being really busy, I often read a few more chapters than scheduled and binged the last 50% because it was just too gripping.
Right from the beginning, the detailed world-building seamlessly blends historical elements with magical fantasy.
The trees have to be tied down by sunset. When the Woodsmen come, they always try to run.
(That quote helped me realise I absolutely love reading about sentient trees.)
The world-building is aided by a handy map at the front, which I referred to so often as many place-names abound and the characters journey to and fro across the Kingdom of Régország. The pronunciation guide/glossary at the back was also a nice surprise!

Young woman riding grey horse through green leafy forest
Of course, great world-building still needs immersive writing to pull the reader in, and Reid certainly succeeds at that. Reid's writing is so intricate and original, with such inventive descriptors that I've never really seen used elsewhere. I came across a tonne of new words too which is always fun (as long as you have easy access to a dictionary, hahaha).
The two leads were complex and conflicted with others, themselves and their religion(s), which made them really intriguing to read. I also liked how over the course of the book, other side characters reveal more layers too, e.g. Virág or Katalin. This was especially fascinating because while some of this added complexity came from new actions by the side characters, it also grew from Évike reflecting upon her past with them.

Brown haired woman looking sad and pensive
This book was a frightening illustration of the role of violently nationalist propaganda, ethnic cleansing and oppression in nation-building – especially disturbing when one remembers that things like this have happened more than once in our real-world history. It was quite horrifyingly gory at times, but not at all gratuitous and I think served to represent these atrocities in a realistic and honest way.
I don't know when I have become something so burdened by other people's hopes and loyalties and lives. It almost makes me weep to think of it, how many people will die or be thrown out if I choose wrong.
Totally invested in the characters' fates, I was constantly hoping and hoping that kindness and understanding might stay burning in this otherwise bleak night – which is probably partly why I could barely put this book down. The plotline was well-paced and full of shocking twists too, even early on, which is doubly impressive given how much information the blurb gives away beforehand. Some plot points did confuse me slightly near the end, with some things leading me to think they'd be symbolically significant (especially given the mythology references) and eventually panning out to be…well…not. Nevertheless, the final climactic scenes were amazing and I loved how it worked with the character development too.
"Will you tell me a story, wolf-girl?"…In his mouth the epithet is toothless, even tender.
The complicated, slow-burn of the enemies-to-lovers arc was done so well here. I loved their dynamic so much, and I kept turning the page dying to know how their relationship would develop.
I've never felt so limp and miserable before, paralyzed by my love. This is the feeling, I think, that keeps mother deer loping after their feeble and defenseless fawns. A mad thing, really, that makes you so terribly attuned to mortality, to the soft places where throats meet jaws, to the hawks circling overhead and the wolves lurking just beyond the tree line.
They're both so flawed and so human in how they deal with each other, alternating between intense arguments full of low-blows and death-defyingly protective acts of loyalty. Oh, my heart.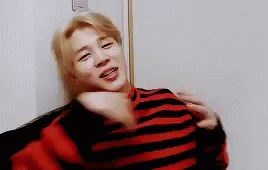 Smiling Korean boy with dyed-blonde hair dramatically sliding off a chair with hands over heart
Some of their arguments did get a tad repetitive nearer the end but this was a very small issue.
Overall, this was a standout debut unlike anything I've read before. Reid is an author to watch and I'm definitely keeping an eye out for her next novel 'A Study in Drowning' (2023)!
Thank you to Del Rey for a gifted copy for an honest review.
Thank you for reading! Have you read 'The Wolf and the Woodsman' or is it on your TBR? What historical fiction/fantasy have you been reading lately? Let me know any thoughts below!