"I'm not like you," Dani said. "I fight to win."
"So do I!" [said Eden].
"No, you fight to be perfect. It's not the same."
All quotes are from the ARC (advance reader copy), subject to change in the final version.
Rating:
3.25/5 stars
What's This Book About?
Genre: YA urban fantasy (dragons, sorcerers)
Publication: 8 June 2021
Pages: 432 (ebook)
Synopsis: Dani and Eden Rivera were both born to kill dragons, but the sisters couldn't be more different. For Dani, dragon slaying takes a back seat to normal high school life, while Eden prioritizes training above everything else. Yet they both agree on one thing: it's kill or be killed where dragons are concerned.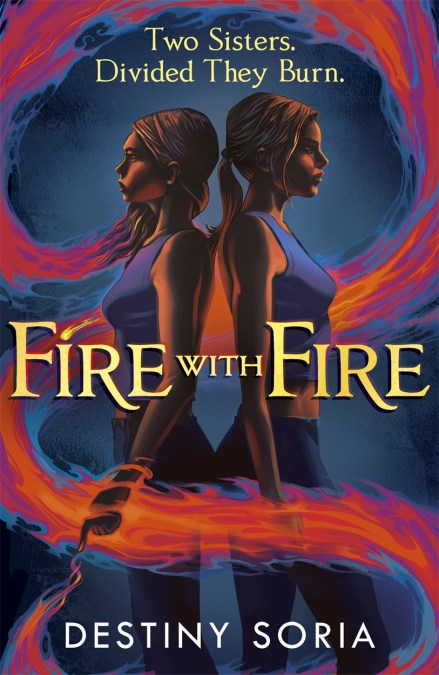 Until Dani comes face-to-face with one and forges a rare and magical bond with him. As she gets to know Nox, she realizes that everything she thought she knew about dragons is wrong. With Dani lost to the dragons, Eden turns to the mysterious and alluring sorcerers to help save her sister. Now on opposite sides of the conflict, the sisters will do whatever it takes to save the other. But the two are playing with magic that is more dangerous than they know, and there is another, more powerful enemy waiting for them both in the shadows.
Content warnings (highlight to see): animal-coded abuse and death; anxiety and panic attacks; blood, injury, violence and death; torture
What I Thought:
'Fire With Fire' was quite funny with great, energetic dialogue – I highlighted quite a few banter-y passages and snappy comebacks – and it's also very readable. I'd get through quite a few chapters in one sitting! However, I did feel like I lacked a deeper connection to the main characters, and at one point I actively disliked Eden, but I did really like a few of the side characters, for example Dani's best friend Tomás, her aunt Frankie, the dragon Nox, as well as new characters like Kieran and Zephyr. I wish at least the dragons could have had a POV! I think the POVs being limited to just the two sisters also made one of the romance subplots a bit unbelievable and cringey, though I really loved the friendships in this book.
The antagonist is glaringly obvious but perhaps deliberately so – it definitely made it even creepier and more discomfiting to watch what felt a bit like Eden being groomed. There is also a nice contrast in scenarios before and after a pivotal moment in a sort of 'descent-into-villany' arc, which made the changes in character and personality all the clearer (and more unsettling).
That being said, I did get a bit confused about Eden's character arc,
specifically with (highlight for spoiler)
her sorcerer characterisation. I think she was 'meant' to become more 'human',
but it kind of flip-flopped depending on the plot context rather than seeming organic.
I was disappointed by the ending, because firstly it was confusing and the time jump felt a bit trite. I also kept expecting at least some kind of explanation to come, which never happened. The alternatives to how it ended also seem way more interesting to explore. I'm talking about perhaps (highlight for spoiler) Eden still soul-bonding with Nox while still remaining a sorcerer, Dani having repercussions from literally dying and the necromancy… The possibilities are endless.
All in all though, this was an entertaining and inventive read with some really great action scenes – especially the Final Battle™! I also really appreciated the mental health rep with Eden's character, the normalisation/de-stigmatising of medication and that Eden isn't weak or broken because of her anxiety. An engaging book and I'd recommend if you're looking for books about dragons, sibling rivalry, magical conspiracies and tense action.
Thank you to NetGalley and Hodder and Stoughton for an eARC for an honest review.
Thank you so much for reading! Have you read 'Fire With Fire' or is it on your TBR? Do you enjoy reading dragon books and which are your favourites? Let me know any thoughts below!
Wow, it's almost been a month since I've last posted… Life is just crammed right now (PhD application season is upon us…) and while I have been reading (very slowly) I just run out of energy to sit and write the review (though at least I've got my handwritten notes in my reading journal). This post has been put together slowly since I finished the book in Oct 😭 I'll hopefully get a chance to read a couple of your blog posts this weekend…