[E]veryone wants the world to see them as they are. The truth isn't the problem. The problem is that the world doesn't always make the truth safe for us to share.
All quotes are from the ARC (advance reader copy), subject to change in the final edition.
Rating:
4/5 paper planes
What's This Book About?
Genre: YA (older) contemporary; LGBTQ+; romance
Publication: 7 Dec 2021
Pages: 416 (hardcover)
Synopsis: Eighteen-year-olds Ruben Montez and Zach Knight are two members of the boy-band Saturday, one of the biggest acts in America. Along with their bandmates, Angel Phan and Jon Braxton, the four are teen heartbreakers in front of the cameras and best friends backstage.
But privately, the pressure to stay in the closet has Ruben confiding in Zach.
On a whirlwind tour through Europe with an unrelenting schedule and minimal supervision, the two come to rely on each other more and more, and their already close friendship evolves into a romance. But when they decide they're ready to tell their fans and live freely, Zach and Ruben realize they will never truly have the support they need.
How can they hold tight to each other when their whole world is coming apart?
Content warnings (highlight to see): addiction; alcohol and drugs; emotional abuse from a parent; homophobia and forced closeting; microaggressions; sex/sexual references; vehicular accident
What I Thought:
I really enjoyed this one and it addressed a lot more serious topics than I was expecting. There's a lot to unpack, and as a recent convert to (music group) fandom the insights into the entertainment industry were both fascinating and disquieting.
The complex relationships between characters were one of the big strengths of this book, especially between Zach, Ruben and their respective parents. It was all very messy but felt very real. Side note: I'd really love to know more about Jon's relationship with his parents, especially given that his father is in charge of Saturday's management.
I was however a little confused about Zach's mum and whether the readers are encouraged to like her or not. I feel like her and Zach's relationship is set up to contrast markedly with Ruben and his mum, and while I doubt that Zach's mum is meant to come across as saintly, the way Zach responds to her following a disagreement conveys a sense that everything is all magically fine when to me it felt deeply unresolved. (Highlight to see spoiler) Her reaction to Zach coming out as bi was absolutely awful and my heart shattered for him. How could you possibly equate your husband hiding an affair with your son not realising he was bi until he's 18?! Even as they were making up it felt like she was completely patronising him and his concerns by making a joke out of his age and 'queer teen angst'. Wow. I didn't realise I was still this angry about it until I was writing this review.

[ID: Korean young man looking fed up with caption reading 'done']
I'd be worried that Zach is in for an unpleasant realisation later that this was not okay, but this book seems to be a standalone, so what do I know?
All the boys of Saturday were compelling and I became really invested in their lives, getting so tense at one point that I actually cried. At another scene I genuinely felt physically nauseated from the secondhand stress, so, you know, fair warnings. My favourite character/most intriguing was Jon, their unofficial leader. I kept wishing that we heard from him more! I definitely think there's a lot of potential for a sequel to follow a Jon/Angel dual POV. We could follow Angel during his (highlight for spoiler) sobriety journey and the whole 'Anjon' ship issue could be addressed too. 'Anjon' got brought up so many times that I thought the authors were hinting at something down the line, and either way it would be an opportunity to explore the negative pressure of fans intensely shipping members who aren't actually dating. Given the completely oppositional personalities that Jon and Angel have, I have no doubt I'd be able to tell their POVs apart with ease, which was not quite the case with Zach and Ruben.
It was really interesting to see different parts of Saturday's job (I loved their makeup artist, Penny!) and it felt quite realistic. (Obviously, I am speaking as someone with no lived experience of the music industry.) Some things were familiar to me as a fan, like the general public's dismissiveness of boybands' validity and artistry as musicians.
"You know, I'm more of a rock guy, but some of your songs are pretty catchy. Just don't tell anyone I said that, okay?"
I'm pretty much used to this now. Basically, no guy will compliment Saturday without an asterisk of some sort. You kind of suck, but…
Other things like the aggressive branding of each member, the ring light carried by Saturday's team to give them perfect lighting for outdoor selfies, the (spoiler: highlight to see)
inclusion of Zach in songwriting credits even as the management rejected all his contributions
…wow.
I think this book will be in the back of my mind for a long time to come whenever I consider BTS and other music acts.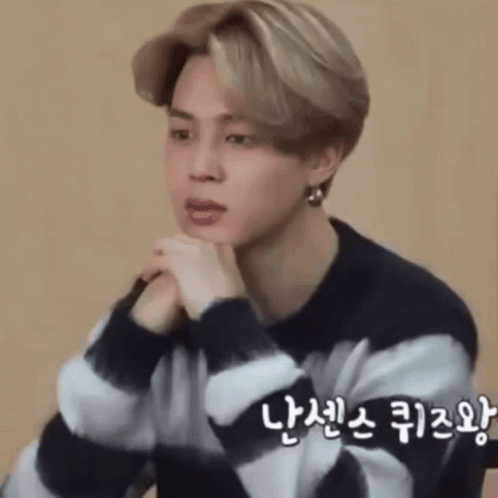 [ID: Young Korean man sitting deep in thought at a desk]
I will admit that I did feel slightly underwhelmed as my expectations were sky-high after seeing a lot of hype. At times it could feel a little slow as well, though it was definitely bingeable; I just found sometimes that when I put the book down I'd take forever to get back to it. I actually also feel like I could've done less with the 'makeout scenes' and more with Zach and Ruben hanging out or in conversation, as I seemed to ship them more when they were talking and that's where I felt their chemistry most, rather than the physical scenes. (I did absolutely love the first kiss though!)
"No matter what happens, you have me. That's not gonna change. Not as long as you still want me."
…"I'll always want you."
"Then you'll always have me."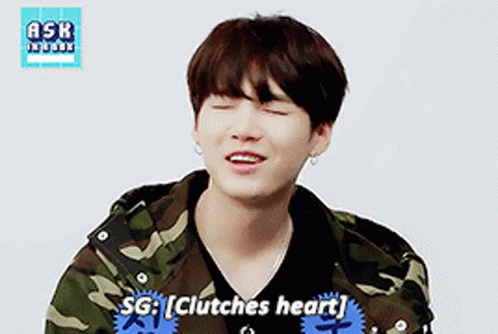 [ID: Young Korean man in a camo jacket clutching heart out of feels with subtitle of 'SG: [clutches heart]'.]
Overall, this was an immersive and thought-provoking read with plenty of heart: heart-sinking, heart-wrenching, heart-lifting moments, it's got them all (and sometimes launches them at you all at once!). I really enjoyed the ending in particular. Part of me wants an epilogue but I also really appreciate the way it finished (or starts? You'll see).
Thank you to NetGalley and Wednesday Books for an eARC for an honest review.
Thanks for reading! Have you read this yet (and what did you think?) or is it on your TBR? Are you part of any fandoms, bookish, musical or otherwise? Let me know any thoughts below!