"[I]t was the miracle all over again, the miracle I still couldn't quite believe in: I wasn't alone anymore. They were saving me, and I was going to save them. It felt more like magic than magic. As though it could make everything all right. As if the whole world had become a different place.
But it hadn't. I was still in the Scholomance, and all the miracles in here come with price tags."
All quotes are from the ARC (advance reader copy), subject to change in the final edition.
Rating:
4.5/5 paper planes
What's This Book About?
Genre: YA fantasy; dark academia; magical boarding school
Publication: 27 Sep 2021
Pages: 400 (hardcover)

Synopsis:
The dark school of magic has always done its best to devour its students, but now that El has reached her final year – and somehow won herself a handful of allies along the way – it's suddenly developed a very particular craving… For her.
As the savagery of the school ramps up, El is determined that she will not give in – not to the mals, not to fate, and especially not to the Scholomance. But as the spectre of graduation looms – a deadly final ritual that leaves few students alive – if she and her allies are to make it out, El will need to realise that sometimes winning the game means throwing out all the rules…
Content warnings (highlight to see): blood, injury, violence and death; loss of a loved one; sex/sexual references
Purchase 'The Last Graduate' here through Bookshop.org (this is my affiliate link – if you order through this you'll be supporting me, my blog – and indie bookshops! – at no extra cost to you.)
What I Thought:
It's been three months since I read this and I still feel personally attacked by that ending. No spoilers, but is genuinely still reverberating in my head alongside my cheery internal screaming, not unlike that of an unfortunate person being devoured by a mawmouth – basically a monster (in El's world, known as a mal) that never really kills you but rather digests you forever after gobbling you up…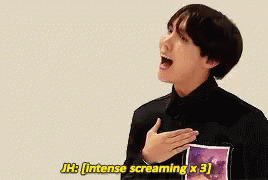 [ID: Gif of a young Korean man, BTS' j-hope, in a black shirt screaming]
That being said…I don't feel like the cliffhanger of Book 1 gets resolved? (Unless I missed something, which is perfectly possible as this book is somewhat dense.)
It leads straight on from Book 1's events, but I think it's a little more character-driven this time around. This might be due to all the flashback exposition and internal monologuing, and yet more character development for El – I especially liked that she still gets surprises about both her own powers and magic more widely. Somehow though, there's still always loads going on. Things may feel small scale at first, just limited to Scholomance stakes…but just you wait.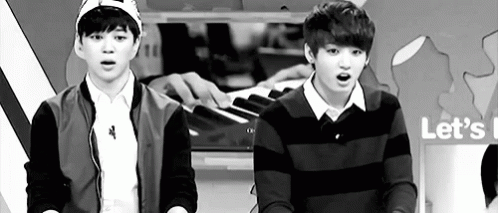 [ID: Black and white gif of two young Korean men, BTS' Jimin and Jungkook, gaping in shock
Actually, that might be why the plot drive felt relatively slow – I think I've mostly been used to YA fantasy plots that revolve around some earth-changing/prophesied apocalypse/take-your-pick-of huge player, huge stakes situation.
The world-building is also intensely immersive and impressively detailed. Nowadays I worry about mals falling/jumping/lunging out of sinks and roof panels, rather than regular human serial killers and/or vampires (thanks Grady Hendrix) like I used to! Effortlessly replacing one irrational fear with another, well done Naomi Novik. I'm really looking forward to how this world expands in Book 3! Novik probably has enough material to write a whole separate Handbook to the Scholomance.
I really liked getting to know Book 1's secondary characters Liu, Aadhya and Chloe more too. I actually sobbed at one point because the friendship bonds moved me so much, and honestly this is just making wreckage of my heart because I never feel like anyone is safe in such a dangerous fictional world. Of course I can't fail to mention Orion Lake, who is just so lovable yet aggravating (in an irritatingly endearing way). Oh god I'm getting so stressed again remembering how much I care about these characters…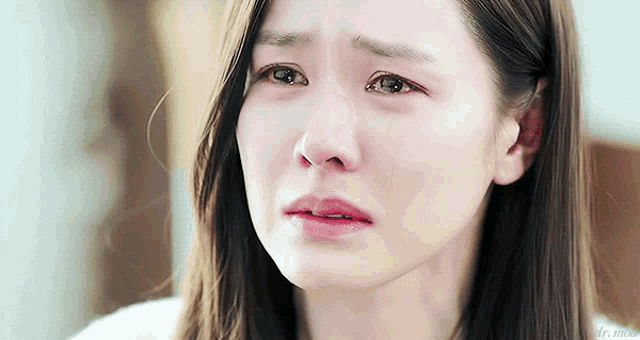 [ID: Gif of the character Yoon Se-ri, a young Korean woman, blinking back tears]
The developments in the romance department were hilarious and adorable and absolutely did not contribute to alleviating that aforementioned stress. Those two (trying to stay spoiler-free for those who haven't read Book 1!) are so awkward and them dancing around each other never fails to make me laugh (and facepalm).
Some of El's monologues could overrun a tad – actually, each chapter is really, really long, but I was mostly hooked – and went on in so much detail that it sometimes confused me and/or made me think of issues like accessibility in the Scholomance.
For example, El mentions a proportion of students who've remained able-bodied throughout their time at this highly hazardous school environment, which suggests there are some disabled students, but I don't remember hearing about them or any accessibility features of the school. (Especially given the revelation about the Scholomance later on.) Novik's world-building is almost ridiculously detailed – the graduation hall doors blew my mind – so I'm sure she would be able to figure out how that would work in the Scholomance.
I think information about that might have actually been more interesting than some of the bloated passages recounting convoluted things that I can't even remember anymore, other than the feeling of being lightly smothered.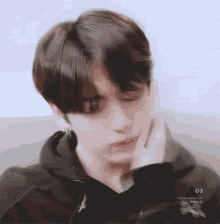 [ID: Gif of a young Korean man, BTS' Jungkook, slapping his face to stay awake]
I did appreciate how there continues to be some critique of generational financial privilege, and how skewed the Scholomance's design and most students' survival strategies are towards the rich and powerful. For example, El mentions how it's not statistically worth it to send children to the Scholomance if they "aren't properly fluent in English or Chinese to begin with, which generally also is a sign that they're no good at languages." At first I was a bit taken aback by this judgement about linguistic ability until I realised that, assuming parents would try to teach their children English/Chinese (the two teaching languages of the Scholomance), this comment underlines the way the Scholomance's design disadvantages those from non English/Chinese-speaking parts of the world and/or those not privileged with the time/money to teach their children these languages.
Before I finish I'd also like to thank The Bibliofile for their excellent recap of Book 1! I didn't have time to fully reread Book 1 before TLG and their recap was very helpful in picking out key scenes to go back over.
Overall, this was a fascinating, heart-pounding and heart-wrenching follow-up to 'A Deadly Education'. I am genuinely desperate for the sequel (and terrified in equal measure…)!
Thank you to Del Rey UK for an ARC for an honest review.
Thanks for reading! Have you read this or 'A Deadly Education' or is it on your TBR? How do you feel about cliffhangers? If you had to choose, would you prefer character-driven or plot-driven novels? Let me know any thoughts below!