Growing up, I realized quite quickly that people hate being called racist more than they hate racism itself.
Rating:
4.8/5 paper planes
What's This Book About?
Genre: YA mystery-thriller
Publication: 10 June 2021 (UK)
Pages: 470 (paperback)
Synopsis: Welcome to Niveus Private Academy, where money paves the hallways, and the students are never less than perfect. Until now. Because anonymous texter, Aces, is bringing two students' dark secrets to light.
Talented musician Devon buries himself in rehearsals, but he can't escape the spotlight when his private photos go public. Head girl Chiamaka isn't afraid to get what she wants, but soon everyone will know the price she has paid for power.
Someone is out to get them both. Someone who holds all the aces. And they're planning much more than a high-school game…
Content warnings adapted from author's (highlight to see): alcohol and drugs; blood; bullying; emotional abuse and toxic relationship; forced outing; guns; homophobia; illness (very short hospital scene), injury, violence, murder and death; loss of a loved one; racism including microaggressions from a police officer; sex/sexual references; sexism; stalking; suicide ideation; vehicular accident
Purchase 'Ace of Spades' here through my Bookshop.org storefront! (This is my affiliate link, so if you order through this you'll be supporting me, my blog – and indie bookshops! – at no extra cost to you.)
What I Thought:
'Ace of Spades' came very highly recommended all over my #bookstagram feed and it certainly did not disappoint! I had months to anticipate it and the wait between publication and when I could actually get a copy (didn't help that for once, I'd missed the archive date on NetGalley) was absolute torture.
This book is incredibly bingeable, near impossible to put down if you've picked it up and both myself and my buddy read partner (Vivian) were way ahead of schedule! Normally we aim for two chapters a day but I remember accidentally barrelling all the way to Chapter 6 on the first day. I'd actually wake up earlier so I could read some of it over breakfast, and as I'm the furthest creature from an early bird, this is serious business!

ID: Gif of BTS' RM, a young Korean man with bleached hair and a white shirt, reading a book intently
The dual POV between Chi and Devon is nicely done, though I did have the odd moment of confusion regarding where I was in the timeline, but this was just at the beginning. Both are really vivid characters too – while Chi isn't nearly as likeable as Devon, she still has a very 'real-person' feel and every chapter was tense and intriguing, no matter who the narrator was.
"I felt lucky growing up to have that mix of such rich cultures, and I wanted you to feel that too. I wanted you to see your name and feel the richness of where you're from. I wanted you to know that when I call your name, Chiamaka, I'm saying, my daughter is beautiful, and smart and brings me so much joy."
I wasn't actually expecting any romance in this book, so it was a nice surprise to become invested in both romantic sub-plots! Chi's romance arc was really interesting and fun, especially as I could personally relate to its early stages. I did see it coming from a mile off, though again that's probably because I could relate so much to it. Devon's arc was both more surprising and more bittersweet to follow. I wouldn't say no to a POV of one of the love interests – name withheld for spoilery reasons, but if you've read it you'll know who I mean. At present I think they're a coward who wouldn't use their privilege to help someone they purportedly care deeply about, but I suppose we all can grow up from our high school days…though my high school was certainly not as twisted as Niveus! At least it did give rise to one of my favourite lines!
"Let's go. The smell of bitch-ass liar is nauseating."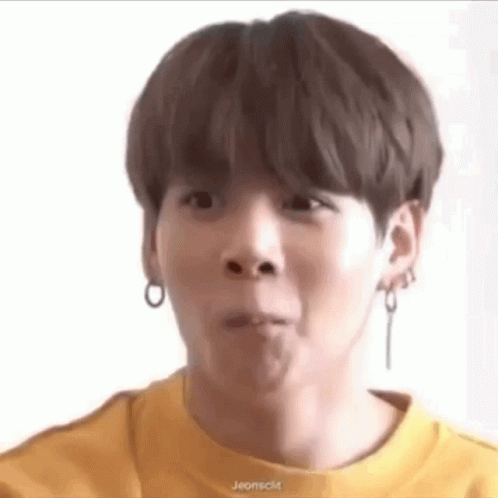 ID: Gif of BTS' Jungkook, a Korean boy with brown hair and a yellow jumper, holding in a laugh
The reality presented in 'Ace of Spades' is horrifying but depressingly plausible…I won't deny that this book has been haunting the back of my mind since turning the last page. It leaves you seriously unsettled and lingers, much like the feeling I get after reading or watching horror. Some aspects of the mystery I guessed, e.g. (highlight to see spoiler) Belle/Martha, but others like Aces' identity and how intricate the conspiracy was were truly shocking as the pieces thudded into place all around our two protagonists.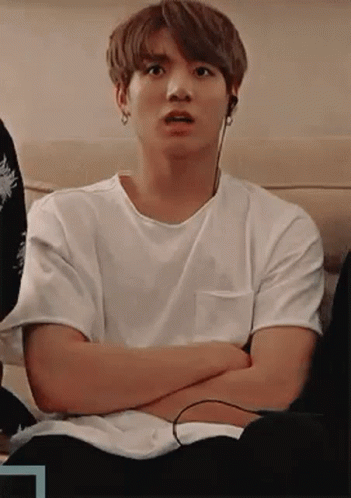 ID: Gif of BTS' Jungkook, a Korean boy with brown hair, earrings and a white t-shirt, sitting with arms crossed and mouth open in shock
I loved the ending, even if we did seem to move on very rapidly from the book's climax. I was also slightly confused/curious about how the characters' circumstances change between the 'end' and the Epilogue. On an unrelated note, I kept thinking the previous (Niveus) Headmaster was going to pop up! The mystery of what happened to him feels quite unresolved; given how often it was brought up I was certain he'd be significant.
Overall, a riveting and searing mystery-thriller that feels painfully relevant to very pressing real-life issues. This held up impressively against the colossal hype and I look forward to reading Àbíké-Íyímídé's future work!
Thank you to NetGalley and Usborne Publishing for an eARC for an honest review.
Thanks for reading! Have you read 'Ace of Spades' already or is it on your TBR? I've heard it compared to the film 'Get Out' and the TV show 'Gossip Girl', as I've not yet watched either, is this a fair comparison? Let me know any thoughts below!