I was beautiful once. I would not recommend it.
Rating:
3.75/5 paper planes
What's This Book About?
Genre: Historical fantasy (Greek myth retelling)
Publication: April 2021
Pages: 204 (paperback)
Synopsis: Within the depths of the Underworld the formidable snake-haired Gorgon has finally had enough.
Tired of being eternally and unjustly brandished a villain, Medusa has found the courage to face her tragic past and speak out.
Determined to expose the centuries of lies surrounding her name, Medusa gives unparalleled insight into her cursed life, from her earliest memories and abandonment at birth, right through to her tragic and untimely death at the hands of the hero Perseus. Through telling her story, Medusa finally reveals the lost truth behind antiquity's most infamous monster.
Content warnings (highlight to see): childbirth; grief; loss of a loved one; pregnancy (as a result of rape); violence (including sexual assault), injury, death
What I Thought:
I binge read this in one day (rare for me these days!) so Hewlett's 'Medusa' was certainly a compelling (and very quick?) read. (Did Medusa's entire post-seventeen 'life' portion of the book only span nine-ish months?)
At first, I wasn't a huge fan of the writing style as it seemed very repetitive, with the same point often gets repeated in slightly different ways with frequently occurring words. The choice of vocabulary also felt at times jarringly modern, and so I kept expecting a storyline where Medusa is now living in our present-day. However, I did get used to it, and because it's a first-person POV with Medusa regularly breaking the fourth wall, I really became enveloped in her story. At times, I even forgot she was technically a fictional narrator and that this wasn't some real person's memoir.
I'm not particularly familiar with the Medusa myth (other than the mainstream version) –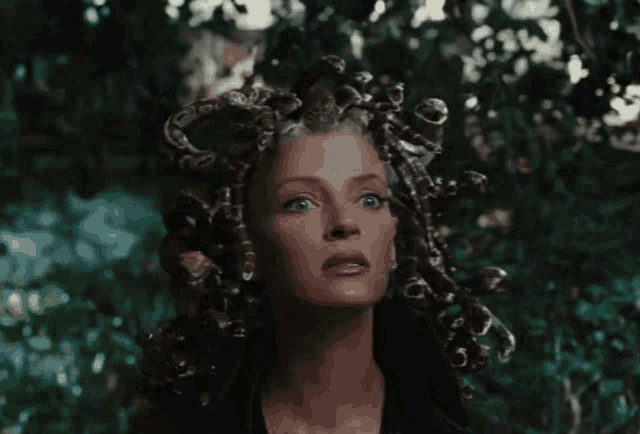 Gif of a white woman with hissing snakes for hair and eyes glowing silver
–
so I was really intrigued throughout to see what aspects Hewlett incorporated into 'Medusa'.
My favourite of these elements was by far the
strong and unexpectedly heart-wrenching sisterhood
that really surprised me in the best way.
I also really enjoyed Hewlett's characterisation of Perseus.
Other standout points included: the snakes, the vividness of Medusa's emotions – particularly when she first begins essentially a vigilante spree, the concept of Fated lives still being malleable, as well as the sharp look at gendered double standards and social issues.
A man can sing endlessly of a woman's beauty, but if she acknowledges it herself she is immediately the villain? One day I think I might strain my eyes from rolling them so much.
I did feel that I wanted more from the 'afterlife' portion of Medusa's story – how was she so up-to-date with everything happening in the mortal realm? I think there was a missed opportunity with getting Medusa to have, say, flash glimpses of the world every time the eyes on her mortal head are revealed or Athena uses her shield. Instead, we sort of just get a chronological summary of what happens next. That said, I didn't mind too much as I was well-invested in Medusa's story and gladly accepted the information, however its manner of conveyance.
Before we finish, can we also appreciate how stunning this book cover is?! To me, what I see in the cover is Medusa winding her way around the lovely but withering flowery labels of 'beauty' given to her by strangers, to look and reflect upon the roles she has held in her life and narratives throughout history.
I believe history preferred to remember me as a dehumanised monster, it made for a more 'suitable' story. Our fragile patriarchy could hardly accept a female monster who can kill men and think for herself. That would be far too scary, wouldn't it?
Anyway, where was I? Oh yes, I was dead.
It is a remarkable feat to have written a book during lockdown, and I look forward to seeing what other stories Hewlett has in store for us!
Thank you to NetGalley and SilverWood Books Ltd who provided a copy for my honest review.
Thank you for reading! Have you read 'Medusa' or is it on your TBR? If you've read it, what did you think? There seem to be a few other Medusa retellings out recently too (e.g. by Jessie Burton and Natalie Haynes) – any thoughts on those ones?
What retelling would you love to read that you haven't yet come across? Let me know below!