I think of all my own memories, reclaimed and mine. To know where you came from holds so much power over how you feel about yourself.
Rating:
4/5 paper planes
What's This Book About?
Genre: YA historical fantasy; Mermaids; Mythology
Publication: 27 Sep 2022
Pages: 304 (hardcover)
Synopsis: *CONTAINS SPOILERS FOR BOOK 1 'SKIN OF THE SEA'*
To save those closest to her, Simi traded away everything: her freedom, her family, and the boy she loves. Now she is sworn to serve a new god, watching over the Land of the Dead at the bottom of the ocean.
But when signs of demons begin to appear, it's clear there are deeper consequences of Simi's trade. These demons spell the world's ruin…and because of Simi, they now have a way into the human realm.
With the fate of the world at stake, Simi must break her promise and team up with a scheming trickster of a god. And if they succeed, perhaps Simi can also unbreak her heart along the way, and find herself again.
Content warnings (highlight to see): blood, injury, death; loss of a loved one; reference to enslavement and the slave trade; violence
Purchase 'Soul of the Deep' here through my Bookshop.org storefront! (This is my affiliate link, so if you order through this you'll be supporting me, my blog – and indie bookshops! – at no extra cost to you.)
What I Thought:
'Soul of the Deep' was a great sequel building on 'Skin of the Sea' and I enjoyed it even more!
The pacing felt more consistent than in Book 1, and I always felt pulled to turn pages and read 'just another chapter' (in which I shamelessly lie to myself and end up reading well past my bedtime…). There's plenty of tense action scenes above and underwater, and I also found the more character-driven scenes very compelling to read too.
Simi's central dilemma is engaging because it is so relatable – I'm sure we've all had moments where our attempts to help seem to ruin everything instead. (Though I'd wager that our attempts usually don't have apocalypse-scale ramifications.) I also became unexpectedly attached to the supporting character Folasade, another of the Mami Wata. I wasn't anticipating this as the returning characters were easier to connect to compared to 'Skin of the Sea', because I already knew them. Folasade's story and personality really stuck with me somehow!

Gif by bluearrow126 showing a mermaid swimming through dark blue-green water
Another characterisation thing I appreciated about 'Soul of the Deep' was the humanisation of opposing warriors, and the acknowledgement of leaders manipulating everyday people and sending them to die in wars waged between elites and their interests. The plot was also made more exciting as some enemy/ally roles from Book 1 were flipped. Olokun was an intriguing character, and I wish his storyline had a little more resolution!
There were plenty of plot twists; while I guessed one big one, I wasn't completely correct, and I hadn't considered the twist that sparked the main plot of 'Soul of the Deep' – though this could also be down to me not being very familiar with this belief system. It was fascinating to learn more about this mythology, e.g. the ajogun and the Mokele-mbembe. 'Soul of the Deep' is atmospheric right from the beginning, and I liked that, similarly to Book 1, that we got to travel to different locations (and revisit some too!).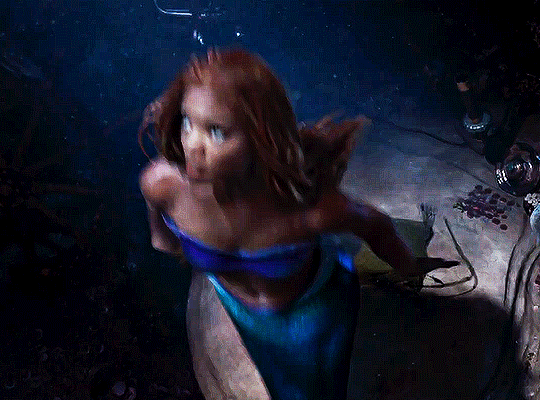 Gif of a Black mermaid, Halle Bailey's Ariel, in an underwater cavern swimming up to some flashing coloured lights at the surface
The only aspect that felt repetitive was the constant rehashing of how Simi and Kola couldn't be together, especially because I felt like the reasoning had already been established in Book 1. I did like how it resolved, though! Very fitting for Simi and I'm excited for her. (Kind of hoping for a Book 3…)
I also loved the Acknowledgements! They were surprisingly comforting to read in my current state of intense job-seeking. It was a lovely note on which to end this book, and I'm definitely interested in reading more from Bowen.
I am Simidele and I choose to follow no one. I choose to be me. I choose to go home.
Thank you to NetGalley and Penguin Random House UK who provided a copy for my honest review.
Thanks for reading! Have you read 'Soul of the Deep' or its first book, 'Skin of the Sea'? Any other mermaid favourites? Let me know any thoughts below!