May men fall to me as this offering falls to you, Greatest Aphrodite. May I know love's power, if never its sweetness.
All quotes are from the ARC (advance reader copy), subject to change in the final version.
Rating:
4.8/5 paper planes
What's This Book About?
Genre: Historical fiction
Publication: 13 May 2021
Pages: 464 (hardcover)
Synopsis: Amara was once a beloved daughter, until her father's death plunged her family into penury. Now she is a slave in Pompeii's infamous brothel, owned by a man she despises. Sharp, clever and resourceful, Amara is forced to hide her talents. For as a she-wolf, her only value lies in the desire she can stir in others.
But Amara's spirit is far from broken.
By day, she walks the streets with her fellow she-wolves, finding comfort in the laughter and dreams they share. For the streets of Pompeii are alive with opportunity. Out here, even the lowest slave can secure a reversal in fortune. Amara has learnt that everything in this city has its price. But how much is her freedom going to cost her?
Set in Pompeii's lupanar, 'The Wolf Den' reimagines the lives of women who have long been overlooked.
Content warnings (highlight to see): injury, violence, death and murder; loss of a loved one; reference to abortions; sex/sexual references; sexual harassment and violence; suicide; swearing; toxic relationships
What I Thought:
Yet another new-to-me author that has blown me away! 'The Wolf Den' was an engrossing look into a part of Roman history I'd never known about and I'm so glad this turned out to be the first in a trilogy!
While 'The Wolf Den' works well as a standalone – goodness me that ending packed a punch – I really care about the characters and don't want to say goodbye. Speaking of characters, they are truly the standout point of this book, with the complexity of each person and the relationships between them. Pretty much everyone (important) felt distinct and realistic, flaws and all – even the characters that are most 'good' out of them all, aren't perfect. (One came pretty close though, the resident cinnamon roll of this book.) Even the main antagonist and some minor ones aren't without their sympathetic and/or humanising elements, despite how horrible they can be. Felix is very intriguing and I'm sure we haven't seen the last of him, if that ending was anything to go by…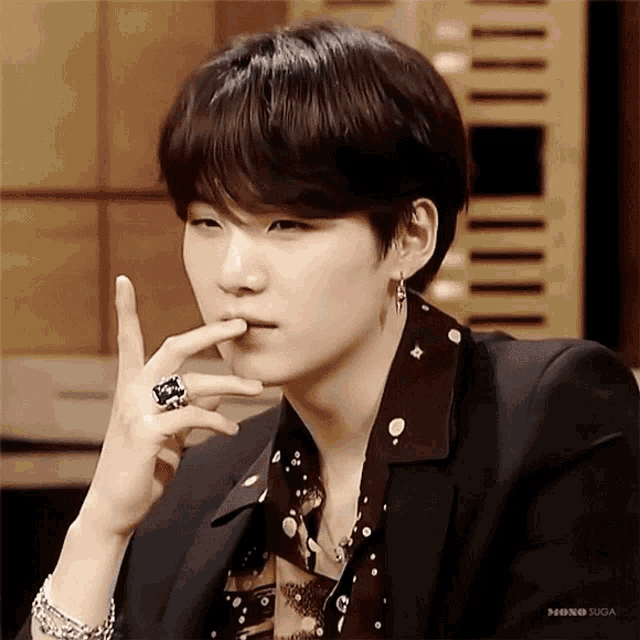 Theorising what'll happen in Book 2… [ID: A Korean man with jewellery and a black blazer, BTS' SUGA, looking deep in thought and rubbing his lips]
The main character Amara is absolutely compelling, and because I cared so much about her fate (will she really be able to regain her freedom? Lord PLEASE) and the lives of her fellow she-wolves, I was still generally hooked even when the plot was technically dragging. The 'slow' parts for me were mainly in the first half, and things pick up pace- and stakes-wise at about the 60% mark. There was also an interesting inclusion of the famous historical figure Pliny the Elder that also introduced some subtle ace-aro rep, which was quite a nice surprise.
Within a richly immersive setting, the story felt very raw and honest.
"I hate it," Dido says. "I hate men staring. I hate it when…" she trails off. "I guess I'll get used to it, all of it, eventually."
"No. Just endure it. Never get used to it."
It wasn't romanticised or gratuitous in its violence and darkness – there were even some actually quite funny and joyful moments – and I really felt for the characters, in all the shades of their love and rage and hope and grief.
"I shouldn't have let him touch you," Amara says. "I should have told him to f*** off."
Dido laughs, taking her by surprise. "The shortest-lived whores in the business. What an opening line that would be. You can ALL f*** off!"
The anguish of tangled moral dilemmas and compromises that Amara and other characters face were very tangible to me, and the subtle romance thread was almost unbearable to read in how futile it seemed.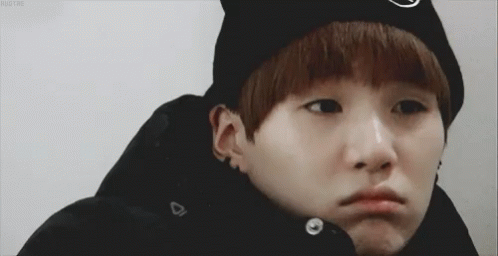 [ID: Korean boy in a black beanie and puffer jacket, BTS' SUGA', pouting with a sad expression]
I've mentioned the ending already but I'm going back to it again because it was so incredibly tense. It took several unexpected turns in rapid succession and I thought it was absolutely amazing. (And in the background, you can hear the cracking sounds of my heart breaking into pieces…if you've read this book, you'll know.)
I really can't wait for the sequel (I believe it's titled 'The House with the Golden Door'?) and I am both very excited and very afraid of what could happen next…
Thank you to NetGalley and Head of Zeus for an eARC for an honest review.
Thank you for reading! Have you read 'The Wolf Den' or is it on your TBR? What types of historical fiction do you enjoy? Let me know any thoughts below!