"I believe there are far more possibilities than happily ever after or tragedy. Every story has the potential for infinite endings."
[All quotes are from the ARC, which may differ to the final version.]
Rating:
2.75/5 paper planes
What's This Book About?
Genre: YA Fantasy
Publication: 30 Sep 2021
Pages: 408 (hardcover)
Synopsis: For as long as she can remember, Evangeline Fox has believed in happily ever after. Until she learns that the love of her life is about to marry another, and her dreams are shattered.
Desperate to stop the wedding, and heal her wounded heart, Evangeline strikes a deal with the charismatic, but wicked, Prince of Hearts. In exchange for his help, he asks for three kisses, to be given at the time and place of his choosing.
But after Evangeline's first promised kiss, she learns that bargaining with an immortal is a dangerous game – and that the Prince of Hearts wants far more from her than she pledged. He has plans for Evangeline, plans that will either end in the greatest happily ever after, or the most exquisite tragedy…
Content warnings (highlight to see): blood; loss of a loved one; murder and death
Purchase 'Once Upon a Broken Heart' here through my Bookshop.org storefront! (This is my affiliate link, so if you order through this you'll be supporting me, my blog – and indie bookshops! – at no extra cost to you.)
What I Thought:
Honestly…this was a slight let-down given how popular this author and the character Jacks seem to be. I'm not really into circus themes so I didn't read 'Caraval', but OUABH sounded amazing, and when I checked it out I found so many people getting excited about a Jacks spin-off. So, I guess I had quite high expectations.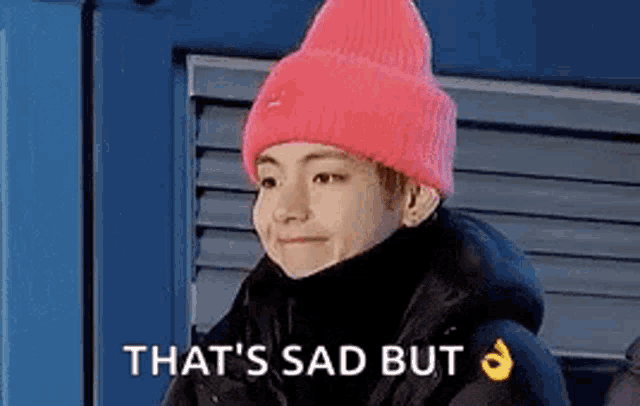 V from BTS, a young korean man wearing a beanie, smile-grimacing with the caption 'it's sad but okay hand emoji
There were so many great ideas, like how the prophecy key worked, and lovely magical touches that were the precise brand of whimsy that I love, for example sentient bells (which OUABH opens with and I was so happy about) or cursed stories. These amazing aspects just got overshadowed by several rather more annoying features, the first of which being frequent bouts of clunky writing. This was particularly frustrating because there were plenty of other passages that clearly show Garber can write well, so why were some sentences so incredibly wooden? So lacking in life that they read a bit like cardboard?
Let me just present some quotes that had both inventive ideas and engaging delivery with vivid word imagery.
The happiness felt touchable, the magic in the air was tasteable, and the sky seemed a little closer to earth. If Evangeline had a dagger, she imagined she could have sliced into that night as if it were a cake and stolen a piece of of it to take a bite of all the wondrous dark.
Instead of musicians, a grand music box opened and life-size clockwork players stepped out to perform an endless stream of ethereal sounds. The notes were like threads of gossamer and tails on kites, springy and enchanting in a way that made Evangeline think of warning fables of boys and girls so bewitched with magic songs that they danced until they died.
…And then we'd have something like the part about how "he would have to catch her first and [Evangeline] didn't plan on being caught by him", which just made me question if there was a word count threshold to reach? If anyone read this out loud to check the flow?
There was also the odd metaphor that made no sense no matter how many times I read it, like that flimsy one about villains refusing to die at the ends of fairytales. Do they really? I thought most fairytale villains do die at the end? Is Garber talking about K-drama villains? I guess it could work with villains from fairytale retellings…?

BTS' SUGA, a young Korean man, wearing a black cap and birthday cake headband and looking deep in thought
Evangeline's narrative voice was also very repetitive (what long-winded internal monologues! So many rhetorical?? Questions!!) and both her and Jacks' character developments felt a bit limited, especially given how long the book is. She tended to cycle between doing something really smart and then making infuriatingly foolish decisions. (I also could not stop cringing at Jacks calling Evangeline 'Little Fox'.) A side character named Lala was really interesting though!
Plot-wise, there were some big surprises and I was genuinely enjoying the book at times, but other parts felt a little predictable or just overlong. (Highlight for spoiler) Jacks' getting bitten would've been 10x more interesting if he'd actually turned into a vampire, and wouldn't feel like a contrived way to land the pair in a steam/honesty session. That being said… perhaps it's meant to feel contrived, in light of later revelations – in that case, hats off to Garber! The pacing was a bit uneven, mostly near the end where it felt like everything suddenly piled on. I totally thought I was only at 60-70% worth of plot but then spotted my Kindle progress bar at 94%! Is there too much for a standalone? Who knows. I'm interested in the sequel (out Sep 2022) – as I said, there were some genuinely great surprises and passages of lovely writing – but I don't know if I'm invested enough to read it in the immediate future.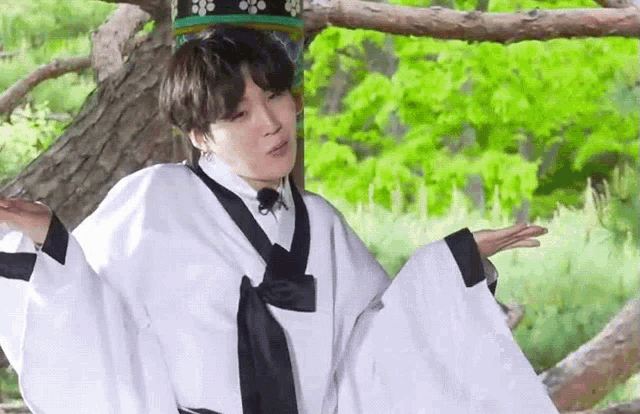 SUGA from BTS, a young Korean man wearing hanbok, shrugging dramatically
A side-note just regarding the ARC: it contained many 'excerpt'-like passages (e.g. newspaper clippings) and was really badly formatted for Kindle reading, which is the most accessible way for me to read review copies. (I had to keep asking my buddy read partner to kindly send pictures of their physical version.) For example, one clipping read,
"J
ust [sic] in from a reliable source, been cured. Her touch no longer Valenda's Sweetheart Savior has turns men to stone."
Apparently, this is a widespread problem across eARCs from different publishers, but I know for a fact that the formatting can be done to work properly, even on my antique Kindle (as my 'The Last Firefox' eARC testified…also a five-star read, do check it out – my review here!). It's not vastly important, but I think it lets down the author – if the reader is struggling so much already with being literally able to decipher the words they might not have as much capacity to enjoy the book.
Overall, OUABH wasn't really what I'd hoped for but I know plenty of people enjoyed this one! It's intriguing and if you enjoy inventive whimsical magic, potions and characters who aren't what they seem, you'll likely have a good time.
Thank you to NetGalley and Hodder and Stoughton for an eARC for an honest review.
Thank you for reading! Have you read 'Once Upon a Broken Heart' and/or the 'Caraval' series, or are they on your TBR? If you have, what did you think? What other whimsical books would you recommend? Let me know any thoughts below!