#5OnMyTBR is a bookish meme hosted by E. @ Local Bee Hunter's Nook! You can read the announcement post here and see the list of prompts here!) It occurs every Monday when we post about five books on our TBR.
Today's titles are all 2020 releases that I'm hyped for!
There are so many awesome-sounding books out in 2020 (perhaps this is indeed 'gonna be my year'?). I'm excited to find out if any of the below will turn out to be new favourites!
'Bonds of Brass' ('The Bloodright Trilogy', #1) by Emily Skrutskie
Ettian, a young pilot, risks everything to save his best friend Gal, the man he trusts most and might even love – only to learn that he's secretly the heir to a brutal galactic empire.
Ettian barely manages to save his best friend from an assassination attempt and flee the compromised Academy unscathed, rattled both that Gal stands to inherit the empire that broke Ettian and that there are still people willing to fight back against imperial rule. As they piece together a way to deliver Gal safely to his throne, Ettian finds himself torn in half by an impossible choice.
Ah, friends-to-lovers, one of my favourite romantic tropes. Also sci-fi! Spaceships! An incredibly cover! And obviously, the peak FinnPoe vibes this exudes is a big draw.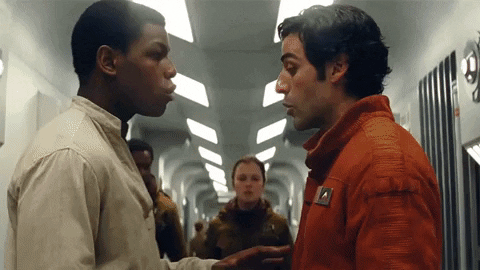 'The Winter Duke' by Claire Eliza Bartlett
When Ekata's brother is finally named heir, she can finally escape Kylma Above. Ekata will not even stay for Kylma Below, the underwater kingdom that provides her family with magic.
As her parents and twelve siblings fall under a strange sleeping sickness, Ekata suddenly inherits the title of duke, her brother's warrior bride, and ever-encroaching challengers from without—and within—her own ministry. Nothing has prepared Ekata for diplomacy, for war, for love…or for a crown she has never wanted. If Kylma Above is to survive, Ekata must seize her family's power. And if Ekata is to survive, she must learn how to wield it.
This sounds like the dark, non-heteronormative fantasy riddled with court intrigue that I've always wanted to read! Also that cover is just amazing.
'Cemetery Boys' by Aidan Thomas
When his traditional Latinx family has problems accepting his gender, Yadriel becomes determined to prove himself a real brujo. With the help of his cousin and best friend Maritza, he performs the ritual himself, and then sets out to find the ghost of his murdered cousin and set it free.
However, the ghost he summons is actually Julian Diaz, the school's resident bad boy, and Julian is not about to go quietly into death. He's determined to find out what happened and tie up some loose ends before he leaves. Left with no choice, Yadriel agrees to help Julian, so that they can both get what they want. But the longer Yadriel spends with Julian, the less he wants to let him leave.
This premise sounds so GOOD. A queer, trans lead (with MAGIC)? Mystery and paranormal romance? I have been dying to read this since I first heard about it a couple months ago!
'The Once and Future Witches' by Alix E. Harrow
In 1893, there's no such thing as witches. There used to be, in the wild, dark days before the burnings began, but now witching is nothing but tidy charms and nursery rhymes. If the modern woman wants any measure of power, she must find it at the ballot box.
But when the Eastwood sisters join the suffragists of New Salem, they begin to pursue the forgotten ways that might turn the women's movement into the witch's movement. Hunted by forces who will not suffer a witch to vote – and perhaps not even to live – they will need to delve into the oldest magics, draw new alliances, and mend their relationships if they want to survive.
There's no such thing as witches. But there will be.
I mean…I'd read this book just for that final blurb line alone. Such a great, punchy tagline. Also I'm starting to realise historical fiction about witches is a sub-genre that I really enjoy.
'Nick and Charlie' ('Solitaire', #1.5) by Alice Oseman (2020 edn.)
Everyone knows that Nick and Charlie are the perfect couple – that they're inseparable. But now Nick is leaving for university, and Charlie will be left behind at Sixth Form. Everyone's asking if they're staying together, which is a stupid question – they're 'Nick and Charlie', for God's sake!
But as the time to say goodbye draws inevitably closer, both Nick and Charlie question whether their love is strong enough to survive being apart. Are they merely delaying the inevitable? Because everyone knows that first loves rarely last forever…
HAH well joke's on YOU, synopsis, because we ALL know that Nick and Charlie will make it and get married and have a dog. (I think?) I can't wait to read more about my favourite couple!
(I just realised my envelopes above sort of go with the 'Nick and Charlie' cover design lol)
Thanks for reading! There are loads more than these 5 that I'm looking forward to this year! If you've read any of these, what did you think?