"Astra inclinant," [Roma] would whisper into the wind, so heartachingly sincere even when quoting in Latin, "sed non obligant."
The stars incline us, they do not bind us.
Rating:
4.95/5 paper planes
What's This Book About?
Genre: Historical fantasy (retelling, 'Romeo & Juliet')
Publication: 17 Nov 2020
Pages: 464 (hardcover)
Synopsis: The year is 1926, and Shanghai hums to the tune of debauchery.
A blood feud between two gangs runs the streets red, leaving the city helpless in the grip of chaos. At the heart of it all is eighteen-year-old Juliette Cai, a former flapper now returned as heiress of the Scarlet Gang—a network of criminals far above the law. Their only rivals are the White Flowers, who have fought the Scarlets for generations. And behind every move is their heir, Roma Montagov, Juliette's first love…and first betrayal.
But when gangsters on both sides show signs of instability culminating in clawing their own throats out, the people start to whisper. Of a contagion, a madness. Of a monster in the shadows.
As the deaths stack up, Juliette and Roma must set their guns—and grudges—aside and work together, for if they can't stop this mayhem, then there will be no city left for either to rule.
Content warnings: blood, gore, injury and death; gun and physical violence; loss of a loved one; murder; alcohol and drugs; contagious disease; hospitals; insects; microaggressions (race, gender); parental abuse; swearing
What I Thought:
Note: All quotes in this review are from the ARC, which may be different to the final edition.
This was one of those rare, atmospheric and magnetic reads that gave me a book hangover. I normally can start a new read within 10hrs of finishing my last one, but it's been almost 24 (at time of writing) and I've yet to start even though my next read is already decided!
In glittering Shanghai, a monster awakens.
Absolutely stunning prose. While one or two spots were a little flowery for the occasion (generally dialogue that felt a tad theatrical), overwhelmingly the writing was just gorgeous. I made so many highlights! The writing style and language felt evocative of that 1920s time period too, which only added to the immersive story, and I really liked the inclusion of some Chinese (in pinyin form). I'd previously not known about the unique Shanghainese dialect so it was nice to learn something new! The inclusion of certain words and phrases from multiple languages worked really well to enhance the setting – in addition to Mandarin and Shanghainese, there was English (obviously), French, Russian (spoken by the White Flowers, aka the Montagues) and references to other dialects too. Small things that really built up the roiling mix of people and cultures present.
Speaking of peoples and cultures, I also appreciated the frank commentary on colonialism and microaggressions.
On [Juliette's] first day back [in Shanghai], she had paused outside the Public Garden, spotted a sign that read NO CHINESE ALLOWED, and burst out laughing. Who in their right mind would forbid the Chinese from entering a space in their own country? Only later did she realize it hadn't been a joke.
The social commentary is not just to do with race and white supremacy but also with transphobia and sexism, especially the double standards set for Juliette as the female heir to the Scarlet Gang.
Without her looks, this city would turn on her. It would claim that she didn't deserve to be as competent as she was. The men, meanwhile, could be as tan, as fat, and as old as they wished. It would have no bearing on what people thought of them.
The casual diversity in characters (aside from the majority Chinese cast, which I had obviously expected) was also a pleasant surprise!
There are at least three queer characters (gay and trans) and I think one of the characters has OCD.
I just loved the Easter egg-like references to Shakespeare's play – the reveal of the oh-so-important poison being my favourite – and I really enjoyed the hints, both subtle and overt as to who was who in the cast. There was even a hilarious parodic reference to one of Shakespeare's famous sonnets.
"Shall I compare him to a winter's night?" Marshall proclaimed. "More breathtaking and more rugged: tempest breezes do tremble with less might – "
"You saw a stranger for two seconds on the street," Benedict interrupted dully. "Please calm down."
The plot has a brisk pace and hefty dose of eye-popping twists, and while the omniscient narration means the reader knows more than the characters do, I still didn't manage to guess the main antagonist, nor their motives! Honestly, I was suspecting someone else, and I have tHeoRiEs for book 2… The onslaught of contagious madness was horrifying and this book is certainly going to be nauseating for those afraid of insects. I was absolutely disgusted several times…which I guess adds to the experience if you're a bit masochistic.
I cared about all the characters (not you, Tyler/Tybalt) and similarly to how I felt during Miller's 'The Song of Achilles', I was absolutely terrified for their wellbeing. I even had to stop at one point because I was too afraid that they might die. (In fairness to Tyler/Tybalt, he does get more characterisation to him here than in the original play.) There are a number of POVs, and while it was easy enough to differentiate when each chapter section was dominated by a single character, sometimes I was confused when it seemed to suddenly slip from what felt like third-person limited to omniscient narration. This wasn't a big problem though.
Don't worry, I haven't forgotten about the romance elements to the story! As you may know, enemies to lovers is my favourite trope, and I have a special affection for arcs that ping-pong between enemies to lovers. Ah, the sweet angsty agony. What was great was that the Roma and Juliette seesaw was always convincingly tied with the plot and never felt forced. Certainly felt painful, though. There was also a burgeoning side ship that I adored too! Any guesses who?
Something special about 'These Violent Delights' is how entertaining its Acknowledgements section was too. I've never enjoyed reading one as much as Gong's here! I think there was a reference to Gansey ('The Raven Cycle' and also kudos to Halsey's 'hopeless fountain kingdom' album, both of which are instant wins in my book.
Ending with some Halsey 'hfk' gifs just because I can: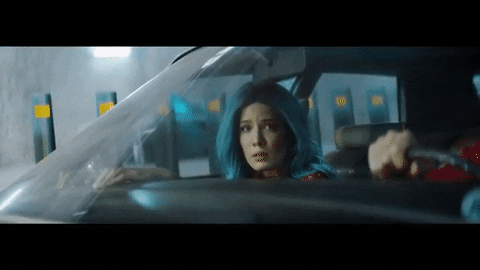 Thank you to NetGalley and Hodder & Stoughton for the eARC for an honest review.
About the Author:
Chloe Gong is an undergraduate at the University of Pennsylvania, double-majoring in English and International Relations. Born in Shanghai and raised in Auckland, New Zealand, she now lives at the top of a crumbling, ivory tower in Philadelphia (also known as student housing).
After devouring the entire YA section of her local library, she started writing her own novels at age 13 to keep herself entertained, and has been highly entertained ever since. Chloe has been known to mysteriously appear by chanting "Romeo and Juliet is one of Shakespeare's best plays and doesn't deserve its slander in pop culture"into a mirror three times. Her debut novel, THESE VIOLENT DELIGHTS, is being published by Margaret K. McElderry/S&S in 2020 with a sequel to follow in 2021. She is represented by the wonderful Laura Crockett at TriadaUS Literary Agency.
(Author photo and bio are from Gong's website.)
Thanks for reading! Have you read 'These Violent Delights' or is it on your TBR? Are you a fan of retellings and/or historical fantasy? Any Halsey fans here? Let me know any thoughts below!