Merry Christmas or happy holidays if you don't celebrate it!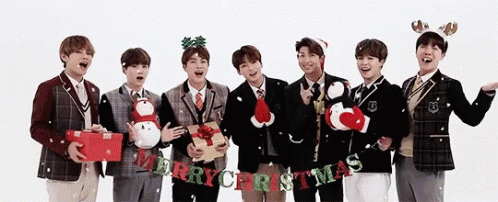 How are you all doing? I haven't posted anything in almost three weeks and I've missed so many of your posts, I'm sorry! I've been so crazy busy with conferences, meetings, courses and applying for a PhD. I've also been desperately trying to finish a Christmassy BTS painting (see below!) and fortunately succeeded (phew!). (I thought my eyeballs would fall out at some points.)
Reading update:
I've got three books on the go but my reading speed is pretty slow! I'm currently buddy reading 'Godsgrave' by Jay Kristoff with Virginia @ The Sassy Library Fox and I'm about a third into 'The Charmed Wife' by Olga Grushin. My library hold on 'Cemetery Boys' by Aiden Thomas FINALLY came through on Monday as well – I've been so hyped for CB since the summer but haven't managed to get past the epigraph yet, oops…hopefully Jan will bring more reading time?
What are you all reading right now? Are you enjoying it?
I won't be able to get back into full 'active' status until February (after my PhD application deadlines) but I'll do my best to keep up with your posts!
Painting 1: 'O Holy Night' (Jungkook of BTS)
…fall on your knees,
Oh hear the angel voices!
Oh night divine…
Finally finished painting this on Sunday! It's inspired by Jungkook (BTS) singing O Holy Night at the 2019 SBS K-Pop Awards and his MMAs Black Swan outfit! 💜
At every colouring stage, I was like 'okay, this shouldn't take too long'…hahaha fool of a Took! My canvas info on Procreate tells me I spent over 22hrs on this painting. I don't begrudge the time spent though as I've been feeling depressed more and more frequently these past couple of months, and drawing and BTS have provided me so much joy. ✨
Little timelapse if you like to watch these things (I find them so soothing hahaha):
(TW for a dribble of blood in the painting below!)
Painting 2: Dracula movie poster (created for the Paintable 'Illustration From Imagination' course)
This took me eight weeks (but so worth it!). In 2020 I only wanted to be able to make a simple digital painting and had no expectation of doing something this complicated – by my standards anyway! I'm grateful for this course as it made me take my artwork more seriously. I used to internally devalue the time I spent drawing/painting even though it made me happy, and this change in perspective has really boosted my mental health! ☀️
I've been drafting another blog post (Virginia's LGBTQ+ Rep Book Tag!) in bits and bobs over the past week, fingers crossed I can finish it before the end of December hahaha! I was tagged all the way back in June, oops…where has the time gone? How is it Christmas already?!
Thanks for reading! Which BTS member should I draw next? Do you prefer bookish or real-life fanart?What book do you think needs more fanart? Let me know below! All best wishes for 2021 ✨💜