"Sanguii e Gloria."

Mia shook her head. "You can keep the glory, Furian."
She turned her eyes to the consul's chair.

"I'm just here for the blood."
Rating:
4.5/5 paper planes
What's This Book About?
Genre: Adult/New adult fantasy
Publication: 5 Sep 2017
Pages: 448 (ebook)
Synopsis:
Mia Corvere has found her place among the Blades of Our Lady of Blessed Murder, but many in the Red Church hierarchy think she's far from earned it. Plying her bloody trade in a backwater of the Republic, she's no closer to ending the men who destroyed her familia; in fact, she's told directly that Consul Scaeva is off limits. But after a deadly confrontation with an old enemy, Mia's suspicions about the Red Church's true motives begin to grow.
Content warnings: violence, death and murder; poisoning; reference to past domestic abuse; blood, gore and serious injury; enslavement; animal death; child endangerment; explicit language and sexual content
What I Thought:
(I buddy read this with the lovely Virginia @ The Sassy Library Fox! It really helped to have someone to vent to as I knew some spoilers about the romantic arc in this one, and couldn't quite face reading this alone, hahaha…)
First off, the standout thing about 'Godsgrave' is the sheer amount and velocity of its plot twists. I think I'm awarding at least one (if not two) of the 4.5 stars just for the plot twists alone. The rollercoaster ride of a final stretch was particularly hair-raising.

Actual footage of me reading the last 10%
I managed to guess one of the major twists a couple chapters beforehand, but it didn't take away from my enjoyment at all because the revelation scene was so incredibly intense.
I really enjoyed how we started out with a mix of flashback and present-day chapters, which I've not read in a while! (Come to think of it, didn't 'Nevernight' also have flashbacks too?) The mystery kept me intrigued (if mildly confused at times), feeding me little bits and pieces leading up to such a dramatic timeline convergence. We learn the barest sliver of extra information about darkin (someone like Mia who can call the dark and control the shadows) but luckily the revelations about Mia's family were fascinating and added nuance and realism to her backstory. Speaking of family, there's also an unexpectedly heartwarming found family element here, one of my favourite tropes.

Just pretend they're gladiators, okay?
The death count is as high as ever (perhaps even exceeding Nevernight?) and the gore is probably even more intense – gladiators, 'blood and glory', anyone? Kristoff really knows how to write gripping action scenes, ranging from jagged, ragged brawling to sleek, almost dance-like murders. The Venatus Magni in particular was an utterly epic climax. I also like Kristoff's penchant for writing chapters of parallel/opposing scenes with different characters! I remember he opened with one in 'Nevernight' and there was another very clever chapter here.
A blood-soaked Mia continues to struggle between her vengeance and her conscience, and I liked seeing her become more aware of the world she lives in, beyond the tunnel vision of her revenge quest. While she isn't my favourite character in this (I think Mr Kindly or Mercurio holds that role), I'm definitely reading the sequel soon as I care about what happens to her. And also because of a potential return of one of my favourite characters from Book 1!
Partly out of love for the aforementioned Book 1 character, I absolutely hated the ship/romance arc in this book. I also didn't feel any chemistry between them (other than the acidic bubbling of my dislike for the love interest) and it really felt more like lust than a real emotional connection. (Am I biased? Perhaps.)

Me reading the romantic scenes
Anyway, I just grit my teeth, forced down the urge to vomit from my eyes and I guess it turned out okay. This is probably the only F/F ship I've ever read and not shipped, but I'm not bothered on that front as 2020 has blessed us with so many sapphic books!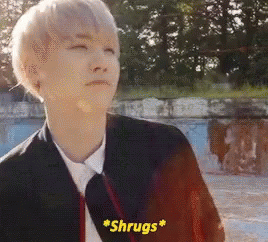 Lack of shipping aside, I did really like how Mia came to terms with being bisexual or pansexual – the questioning bits were really relatable for me.
I'll just finish off by saying that 'Godsgrave' continues to feature Kristoff's sarcastic wit and hilarious high-fantasy style jokes and puns, though I think it's a little less purple prose than 'Nevernight' was. That could be to do with me reading it on an e-book though, where we can click back and forth on the hyperlinked 'fnX' footnotes, meaning that the narrative flow isn't interrupted at all. I think I might actually prefer this mode…
Looking forward to buddy-reading the finale 'Darkdawn' with Virginia next year!
Thanks for reading! Have you read the 'Nevernight' trilogy or any of Kristoff's other books? What did you think? I'm really intrigued by his sci-fi ones. Let me know any thoughts below!