Thank you so much to Virginia @ The Sassy Library Fox (the tag creator) and Elli @ AceReader for tagging me in this!! It looks so fun and I'm super excited to do it (sorry about the delay!).
Rules:
Thank whoever tagged you and link to their blog post.
Link to the original creator: The Sassy Library Fox! And please credit The Sassy Library Fox if you use (copy & paste) the artwork/ graphics.
Match books with the given prompts.
Tag as many people as you like!
Post the rules and the list of prompts in your tag post.
'The Winter Duke' by Claire Eliza Bartlett!
Aka one of my 2020 faves – I was expecting to enjoy it given its promise of court intrigue, icy magic and sapphic romance but wow. In general, 2020 has been a great year for sapphic book releases (please let 2021 continue this pattern!).
'Simon Vs The Homo Sapiens Agenda' by Becky Albertalli!
Gonna have to agree with Virginia's book choice (she chose Simon!), except for mine I'm picking Blue, Simon's love interest. I really want to reread this book! I read it after watching the film and it came to me just when I needed it. I'm forever grateful for this book.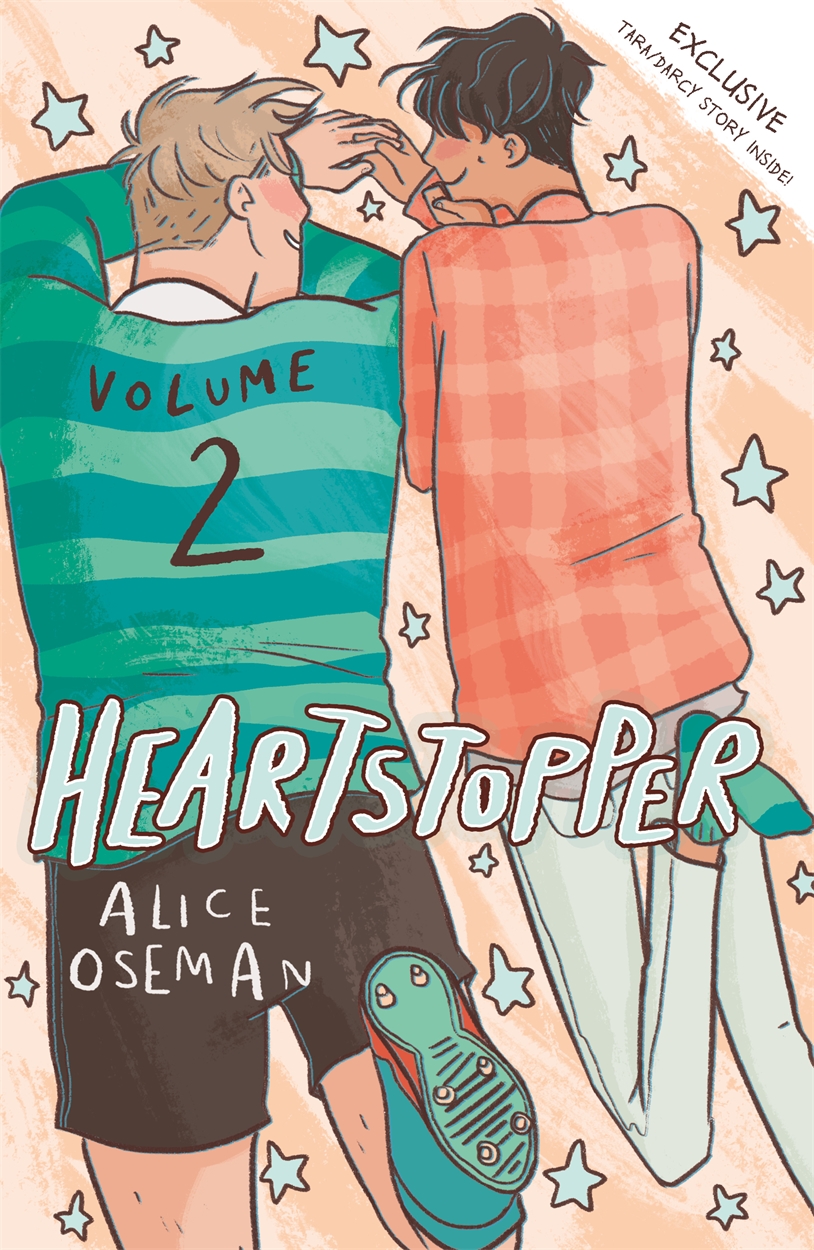 'Heartstopper, Vol. 2' by Alice Oseman!
I absolutely loved Nick (left on the cover) realising he was bisexual. The way his confusion and fear were expressed actually made me cry because of how much I could relate. Another book I'm so thankful for.
Virginia picked 'The Seven Husbands of Evelyn Hugo' by Taylor Jenkins Reid and I'm absolutely dying to read that one!
'Cemetery Boys' by Aiden Thomas!
Same pick as Elli! I've just started 'Cemetery Boys' (starring a trans Latinx boy) and I'm SO PUMPED. I've been wanting to read this so badly since it came out in Sep and honestly my eyes bugged when I got the email that my library e-book hold had finally come through, hahaha! So hyped.
'The Space Between Worlds' by Micaiah Johnson!
The character Exlee is a powerful figure and sometimes guardian in the settlement that the protagonist, Cara, grew up in. If you haven't read this queer, gripping, sci-fi debut yet, I highly recommend! (My review here!)
'Once & Future' by Amy Rose Capetta and Cori McCarthy!
This book features a whole range of queer folk, with gender-fluid, sapphic, gay and ace (asexual) representation. While I didn't enjoy this book as much as I'd hoped, I might still read the sequel in the hopes it'll do a 'Mirage' and surprise me! (I enjoyed 'Court of Lions' by Somaiya Daud much more than the first book 'Mirage'.)
Sabran and Ead from 'The Priory of the Orange Tree' by Samantha Shannon!
This was such a well-written F/F romance! I don't think it's quite as 'enemies-to-lovers' as I'd expected based on previous reviews I'd read, but they definitely have that buzz of conflict (wow does that even make sense) that gives these two a real spark and tension.
It has to be Nick and Charlie from 'Heartstopper' by Alice Oseman (isn't her art of them at Disneyland just SO adorable?!?)! Their relationship development is so cute and the way they communicate, support and just love each other warms my heart so much.
I'm just going to feature some more art of them because I love them so much ahahah!
Henry Cheng from 'The Raven Cycle' by Maggie Stiefvater!
I'm in accord with the popular headcanon that Henry is aro/ace, and I love his character so much! He's hilarious, kind and smart and undeniably the breakout star of this series. I think he's tied with Ronan for my favourite Raven Boy. (My review here!)
Wylan and Jesper (Wesper) from the 'Six of Crows' duology by Leigh Bardugo!
Ahhhh I love these two so much! They have a great and funny dynamic and I really liked how their bond developed. I love how I didn't even realise there was a budding romance the first time I read 'Six of Crows' (I only clocked it at the end and it's quite obvious in 'Crooked Kingdom'); when I re-read it, I was like "Sabrina were you not paying attention 😂"
'The Secret of You and Me' by Melissa Lenhardt!
Religion wasn't a huge thing in this book but it definitely had a role to play here, in a sapphic story of two best friends who secretly fell in love, were torn violently apart and are now meeting again for the first time, eighteen years later. (Read my review here!)
'Afterlove' by Tanya Byrne!
This sapphic love story straddling the realms of the living and the dead is coming out in June 2021, and just LOOK at this glorious cover. I don't think I've ever seen a YA cover with two girls kissing openly. (If you know of another one, let me know!) I was lucky enough to score an ARC and I'm super hyped for it!
'One Last Stop' by Casey McQuiston!
I feel like I've been waiting for this (and 'Any Way the Wind Blows' by Rainbow Rowell) since FOREVER! This is about a girl who falls in love with another girl she sees on the subway…except the girl she likes is stuck in time and belongs back in the 1970s.
Here are the text-only prompts:
Female Strength // a book with a lesbian heroine
Cinnamon Roll // a book with an adorable gay character
Boys & Girls // a book with bi rep done right
The Body & The Soul // a book with a transgender character
We're All Queer // a queer rep you'd love to see more of in books
All About Pronouns // a book with a non-binary character
One Big Family // a book that features lots of different LGBTQ+ reps
Sapphic Love // your favourite F/F couple
Boys Love // your M/M OTP
Side Kick // your favourite LGBTQ+ side character
Stealing The Show // an LGBTQ+ side character couple that rocks your socks
Strong Beliefs // an LGBTQ+ book that deals with religion
Rainbows Everywhere // a book with an unapologetic cover
Future Generations // your most anticipated LGBTQ+ release
Tagging (only if you want to!):
…and YOU, if you think this tag would be fun!
This is going to be my last post of 2020 so I'll take this chance now to wish all of you a lovely and healthy beginning to 2021 and all my best wishes! 💕 Hope you all have an excellent reading year and a brighter 2021.
Thanks for reading! Have you read any of my picks, and what did you think? What books would you have picked? Let me know below ✨